Top 10 Camping Spots in South West WA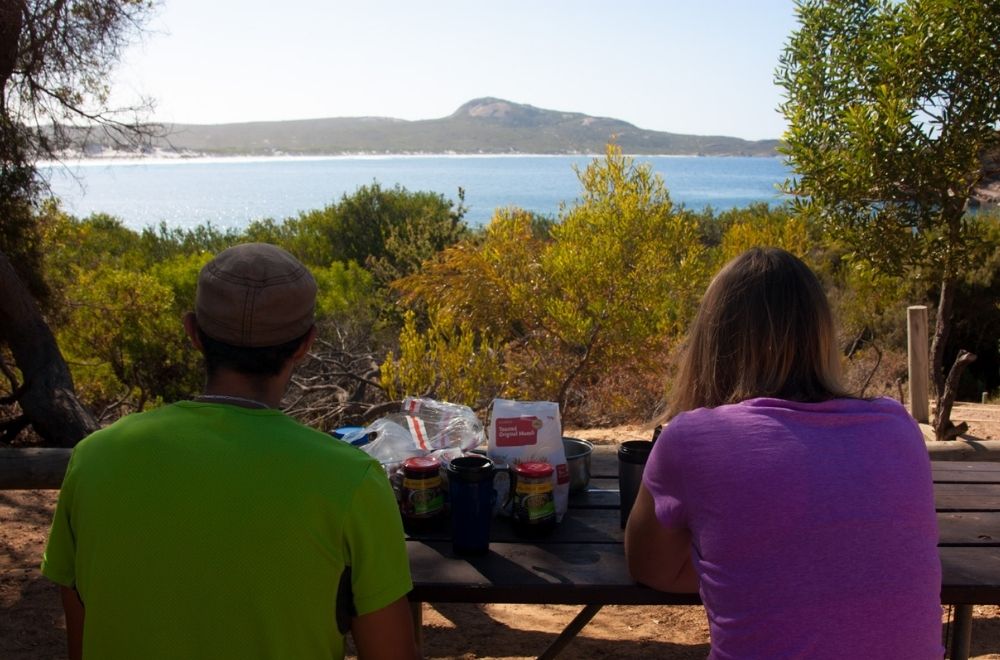 From Perth to Esperance, the south west region of Western Australia is an outdoor adventurer's paradise. Diverse in landscape, the region boasts some of the most scenic campgrounds in Australia. From white sandy coastlines and natural swimming holes, to national parks rich with unique species and old growth forest, there's a little something for every camper. While there are plenty of destinations to choose from, here are just some of the best camping spots in South West WA!
Lane Poole Reserve
Location: 112km south of Perth
Access: 2WD
Located just south of Dwellingup, Lane Poole Reserve is the ultimate camping destination for adventure enthusiasts. Spanning 50,000 hectares, the forested park is home to 500 species of native flora, towering Jarrah trees, and the mighty Murray River – a mecca for white-water rafting in winter, or kayaking, canoeing and fishing in the warmer months. There are nine campgrounds located within the reserve, all of which provide the perfect base to explore the park's abundance of bushwalking, off-road and mountain bike trails – including the 1,000km Bibbulmun Track and the iconic Munda Biddi Bike Trail.
Belvidere Beach
Location: 155km south of Perth
Access: 2WD, 4WD beach access
Located 20km north of Bunbury within Leschenault Peninsula Conservation Park, this slice of paradise offers incredible views of the Pacific Ocean and plentiful water-based activities! The campground sits upon the banks of Leschenault Estuary – a great spot for fishing, snorkeling, canoeing, kayaking and swimming year round. There are many bushwalking and bike trails throughout the reserve, and a number of scenic 4WD tracks that lead directly to the beach.
Wellington National Park
Location: 183km south of Perth
Access: 2WD
Home to Honeymoon Lake, one of the region's most idyllic swimming spots, Wellington National Park is a native wonderland. Located within Collie River Valley, the park boasts 17,000 hectares of native forest, an abundance of natural swimming holes, more than 70 different bird species and of course, some of Western Australia's most unique animals such as the quokka, chuditch and western ringtail possum. In spring, more than 300 types of colourful wildflowers bloom throughout the park. While the views alone are well worth the visit, the park offers a wide range of adventure activities such as fishing, canoeing, rafting, bushwalking, rock climbing, abseiling and mountain biking. For the 4WD enthusiasts, Lennard Track and Sailors Gully lead to an epic off road circuit that weaves throughout the reserve.
Conto Springs Beach – Margaret River
Location: 300km south of Perth
Access: 2WD access to Conto Campground, 4WD access to Point Road Campground
From world class surfing and enchanted caves, to pristine beaches, local delicacies and vineyards, a visit to Margaret River is an absolute must when venturing to WA's south west. Located just a short drive from the town centre, Conto Campground offers direct access to the iconic Cape to Cape walking trail and of course, Conto Springs Beach. With 116 campsites to choose from, accommodating tents through to large caravans and camper trailers, Conto Campground is the perfect spot to hit the surf, cast a line or take in the sweeping coastal views from the headland. For those looking to head a little further off the beaten track, Point Road Campground is located just a few kilometres south on the fringes of Boranup Forest and is accessible by 4WD only.
Warren National Park – Pemberton
Location: 340km south of Perth
Access: 2WD
Just 15km south of Pemberton lies Warren National Park, home to some of Western Australia's oldest and tallest Karri trees. There are two secluded campsites located along Warren River – Warren Campground and Draftys. Both campgrounds offer direct access to the river for those campers keen to enjoy a spot of fishing, boating, canoeing or kayaking. Both campgrounds are accessible by the Heartbreaker Trail – a 12km scenic drive through the park's towering forest and swimming holes. If traveling by 4WD, off road trails are plentiful with river crossings galore.
Banksia Camp – D'Entrecasteaux National Park
Location: 408km south of Perth
Access: 4WD only
Banksia campground offers incredible views across the coastline to Chatham Island. With direct access to two beaches, this spot is ideal for surfing and fishing enthusiasts, or those simply eager to relax and unwind upon the white sands and pristine waters – your own little slice of beachfront paradise! D'Entrecasteaux National Park offers some of the best off road drives in the region – the coastal track to Yeagarup Dunes is definitely one for the bucket list.
Moingup Springs – Stirling Range National Park
Location: 386km south-east of Perth
Access: 2WD
One for the bushwalkers! As the only major mountain range in southern Western Australia, Stirling Range is a popular spot for those keen to soak in the mountain vibes, embark on a bushwalk through rugged terrain, or check out the 1,500 wildflower species that bloom throughout spring (some of which can be found nowhere else on earth). The campground hosts just 20 sites, for tents and small campervans – so make sure you get in quick.
Shelly Beach – Albany
Location: 446km south-east of Perth
Access: 2WD
Located within West Cape Howe National Park, this long swept beach lies between giant granite boulders with sweeping views across the coast and Porongurup Range. It is one of the only sites in the park that can be accessed by 2WD vehicles, with tents and small campervans permitted to stay overnight.
Hamersley Inlet – Fitzgerald River National Park
Location: 582km south-east of Perth
Access: 2WD
With direct access to both beach and estuary, this campsite is the ultimate location for fishing, watersports, bird-spotting or exploring the many beaches and walking trails of one of Western Australia's largest national parks. The inlet stretches 7km in length. With sand dunes in the north and a narrow river valley in the south – the inlet offers fantastic boat and kayak Black Bream fishing. We highly recommend walking to Cave Point for some of the best views of the park.
Lucky Bay – Cape Le Grand National Park
Location: 767km south-east of Perth
Access: 2WD
Voted as one of Australia's best beaches, no visit to the south west is complete without venturing to Lucky Bay Beach! Located around 45 minutes from Esperance, Lucky Bay Campground is the perfect base to explore Cape Le Grand National Park and soak in the incredible views from the rugged coastal headland. You may even be lucky enough to spot a Kangaroo sun-baking on the beach.
Whether it be diving, fishing, boating, kayaking, canoeing or bushwalking – this nature lover's dream has a little something for every outdoor adventurer.
Before you head off…
Most campsites in South West WA are open year round. However, campgrounds are usually busy during school and public holidays so make sure you book online. While some campsites permit fires, be sure to check current fire restrictions before visiting. Many campsites in the region offer little to no facilities, so make sure you plan ahead! Current fire restrictions, campground facilities and online bookings are available via the Park Stay WA website.