Includes On Road Costs & Dealer Delivery
The Overlander GT can sleep a family of 6 in comfort. This full-sized camper trailer comes with a huge deluxe chef's kitchen, over 3,300L of storage including space for a 110L fridge, a fully featured 12v setup, and is still more than capable of handling any terrain you care to explore.
Demo On Display In Our Wangara Showrooms
Enquire Below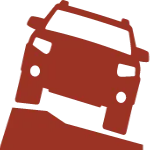 Cape Ready
Extreme off-road capability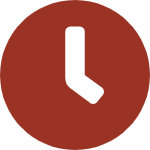 Quick Setup
Set up or pack down in under 15 minutes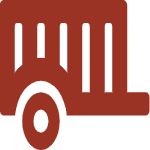 Full Chassis
Full-length galvanised steel chassis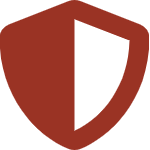 Fully Sealed
Completely dustproof and waterproof
Light Weight
Can be towed with just about anything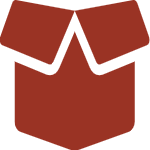 Large Storage
Over 3,300L incl. space for up to 110L fridge
VIDEO: OVERLANDER GT PUT TO THE TEST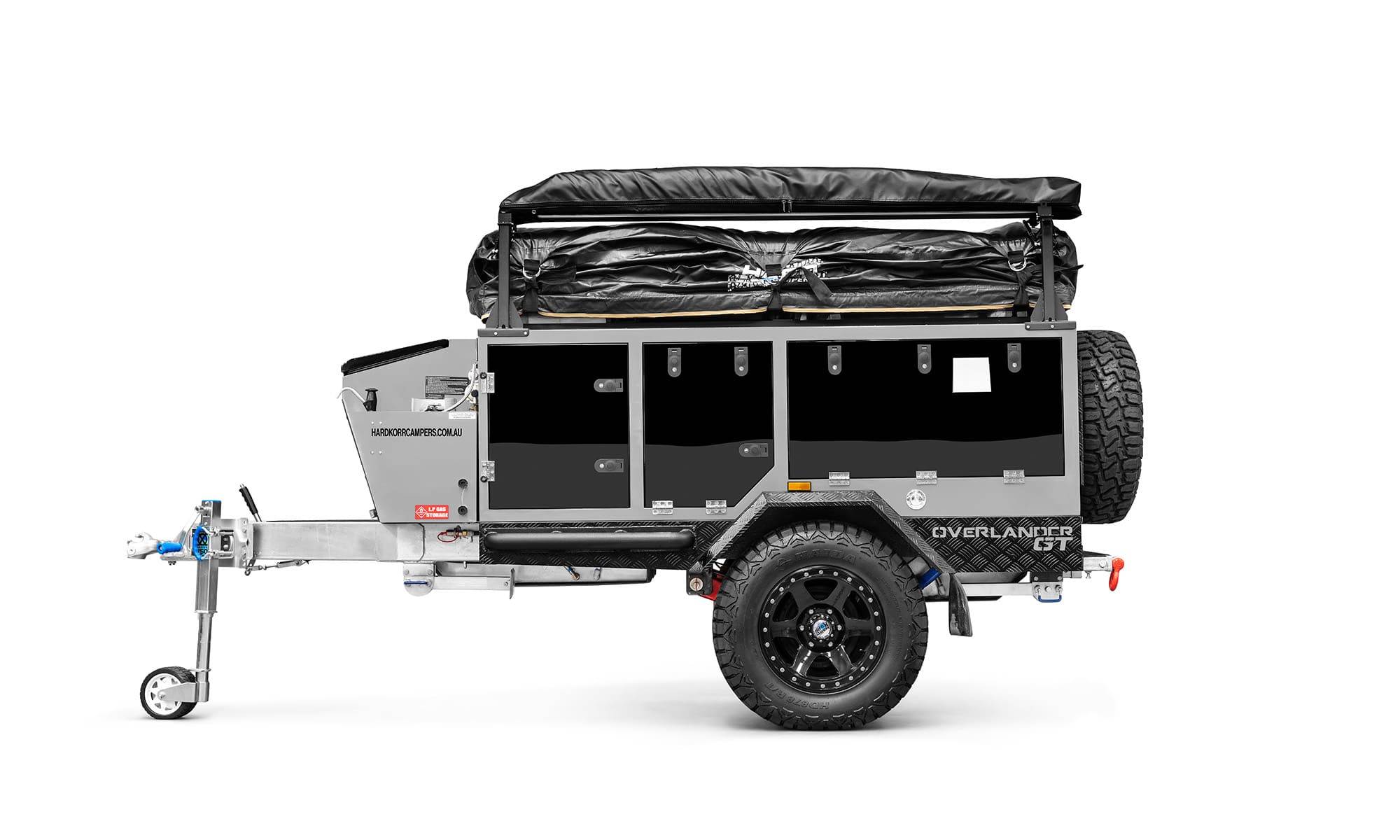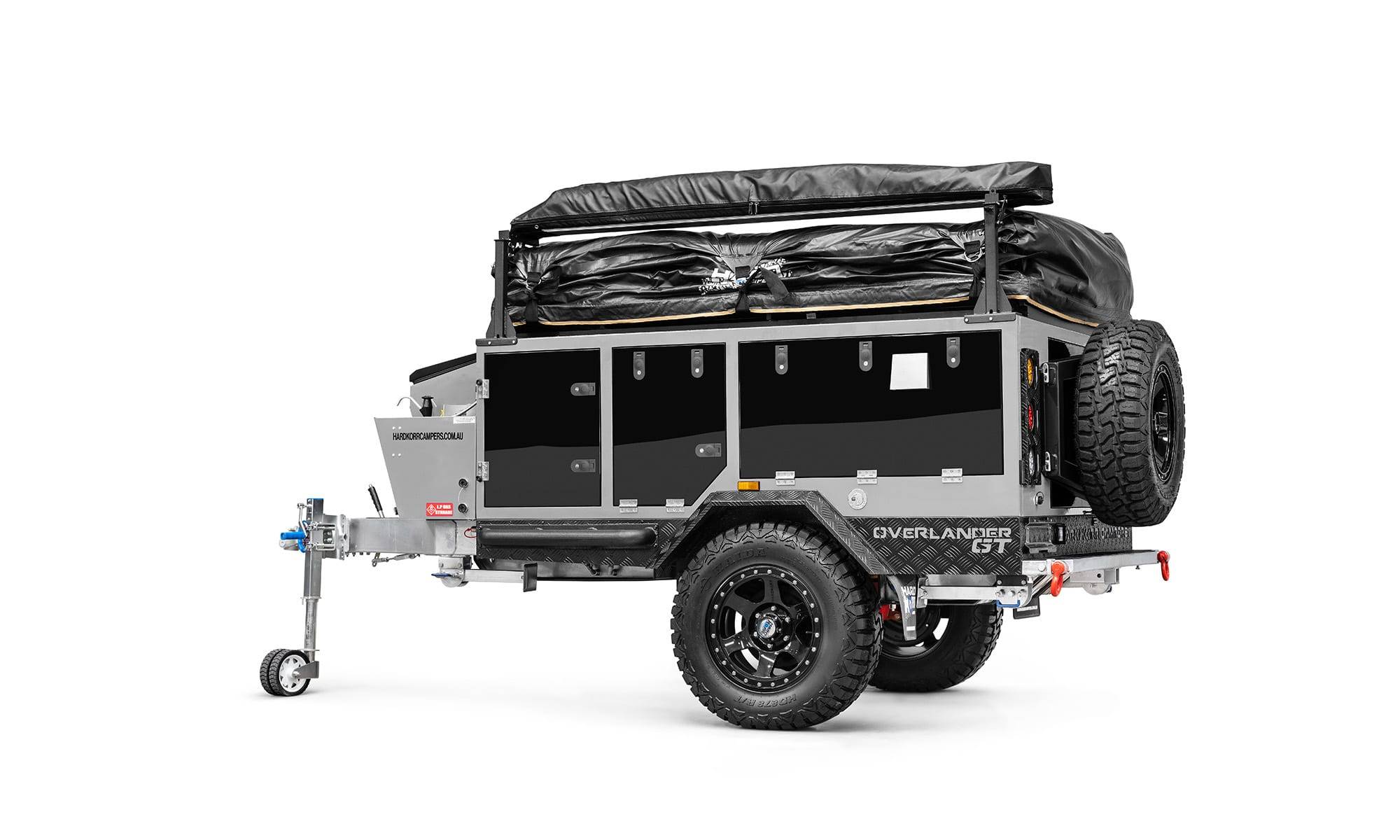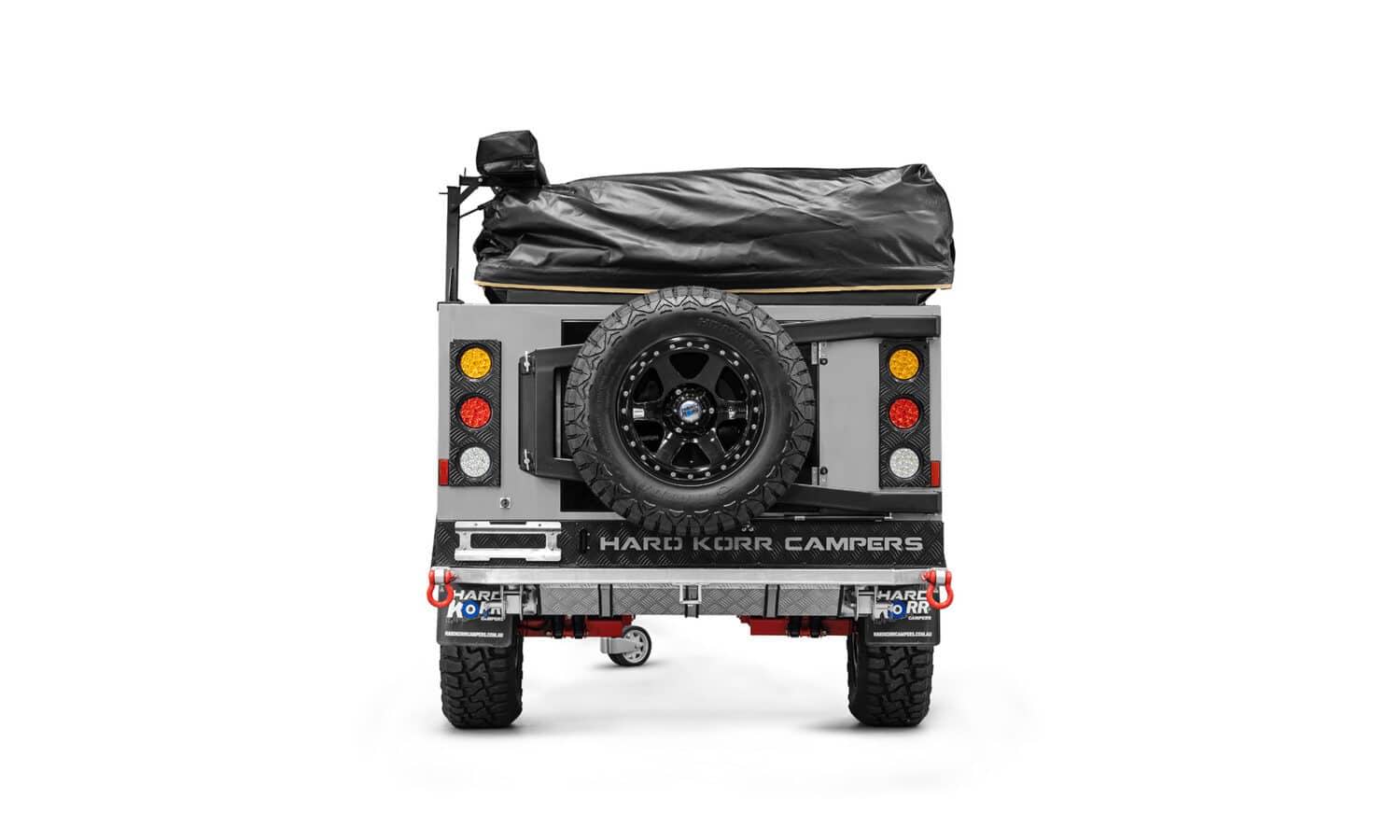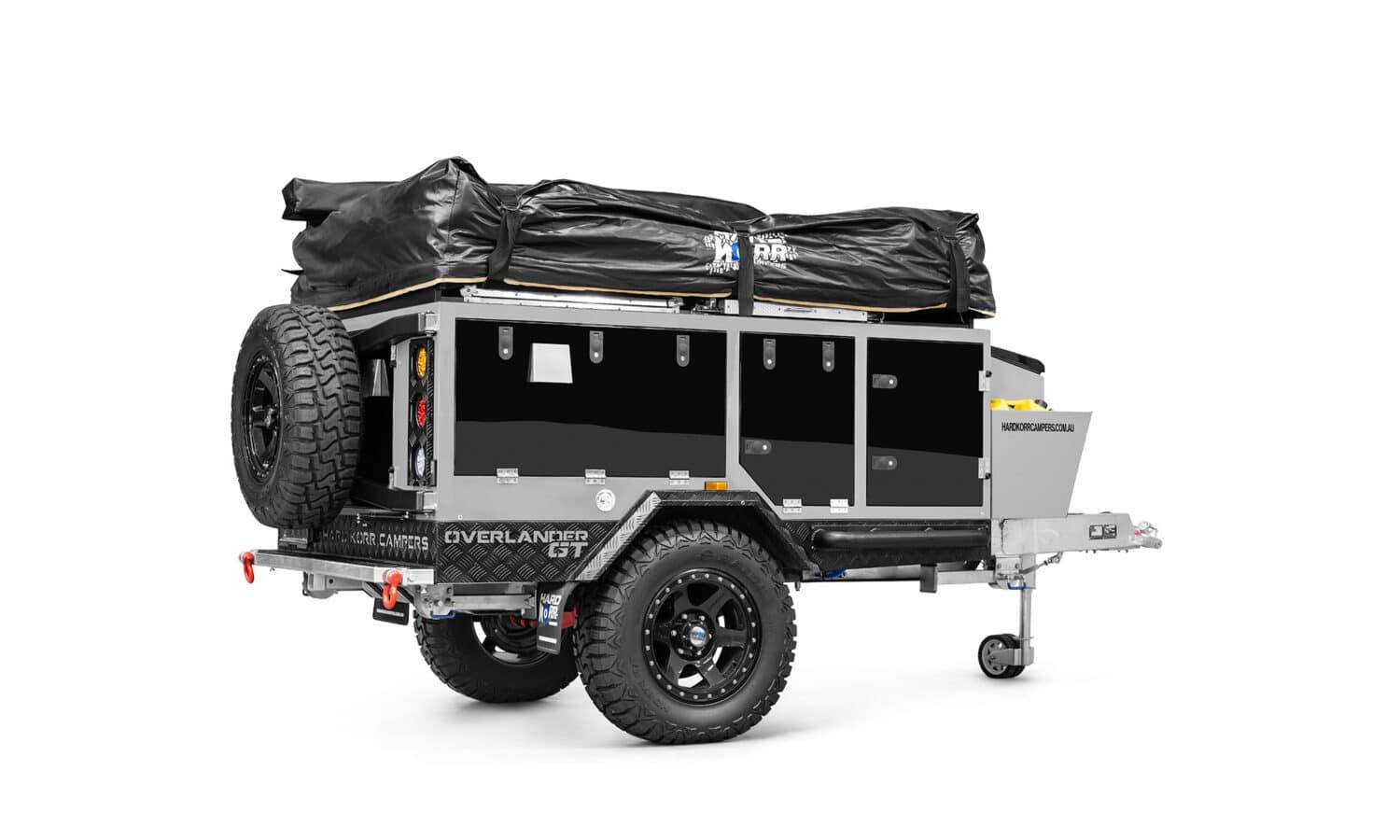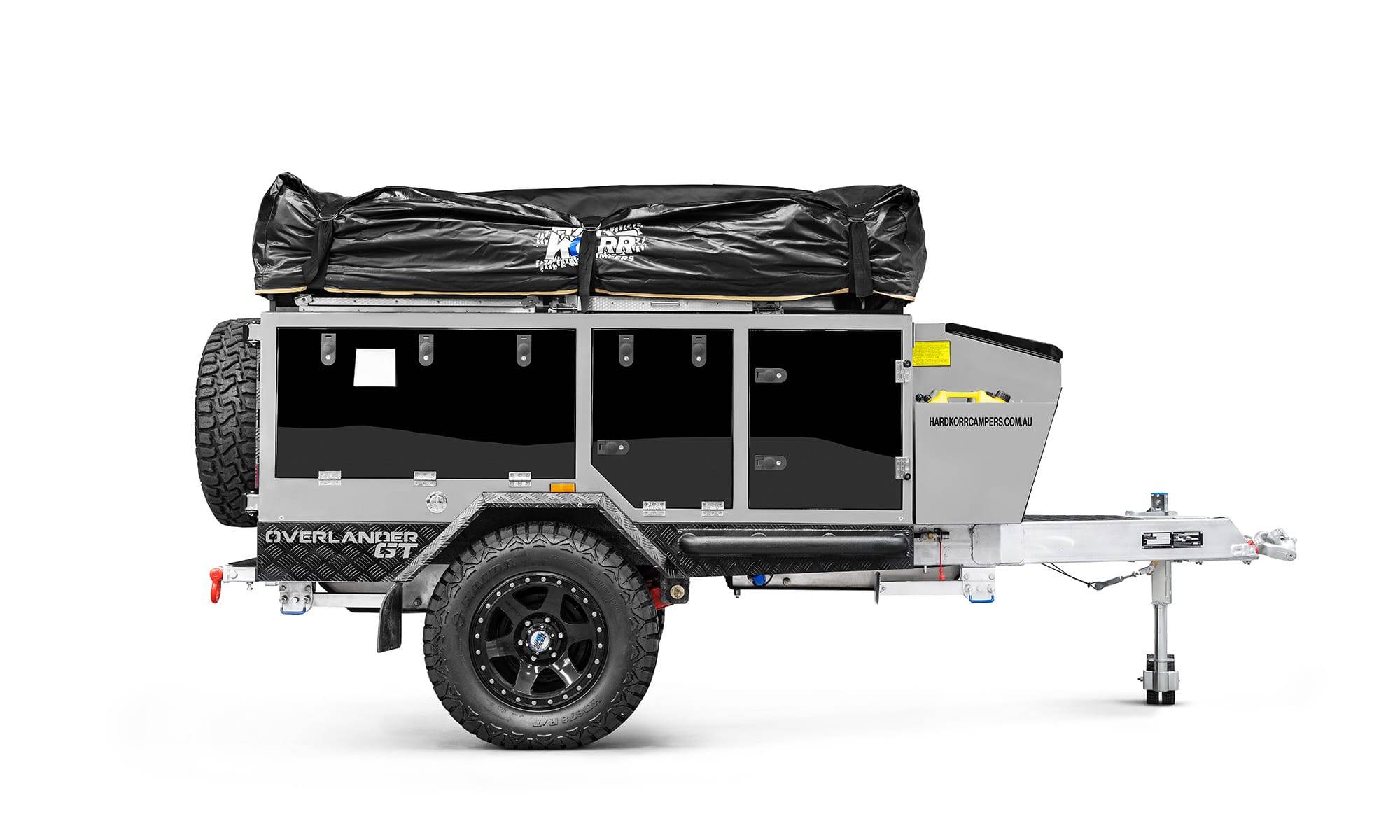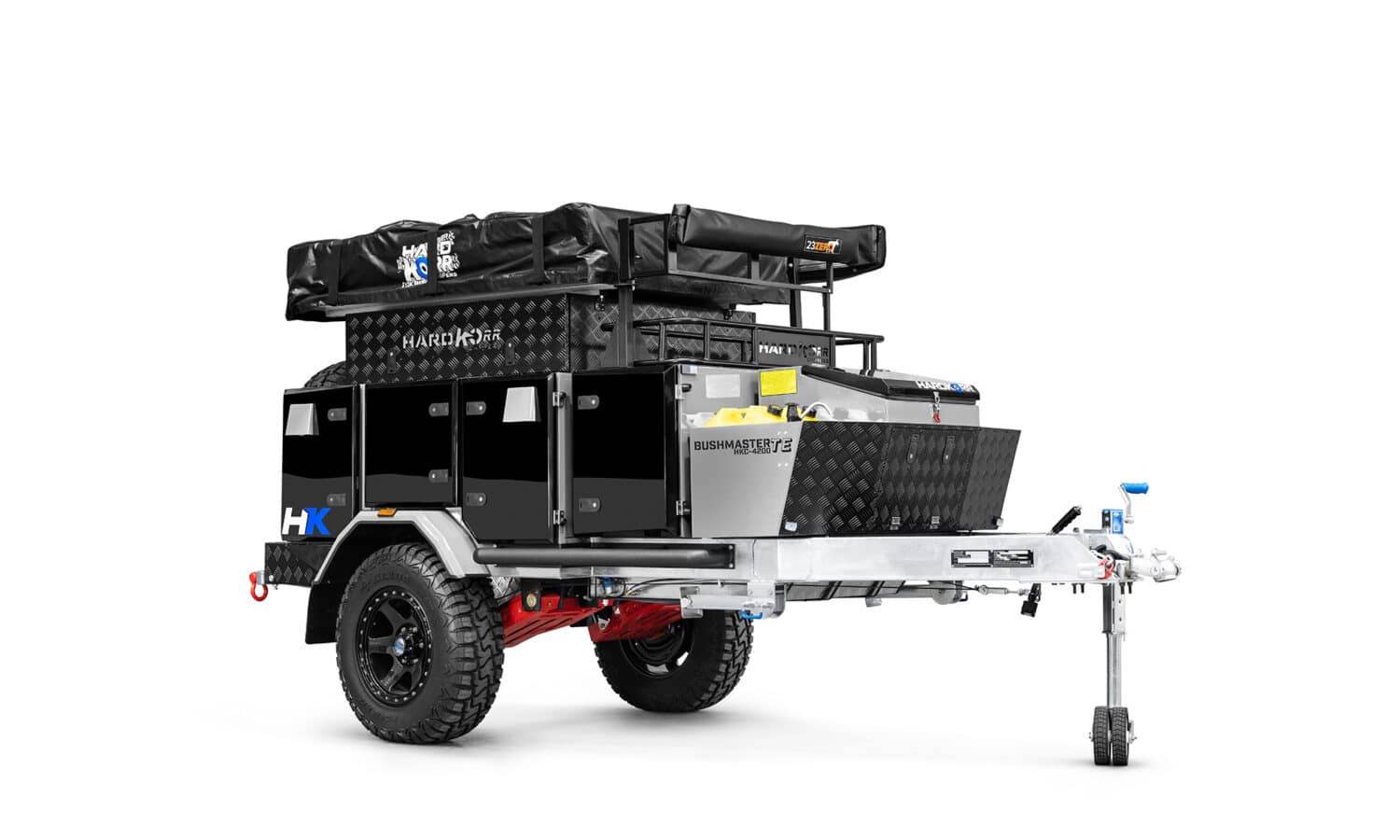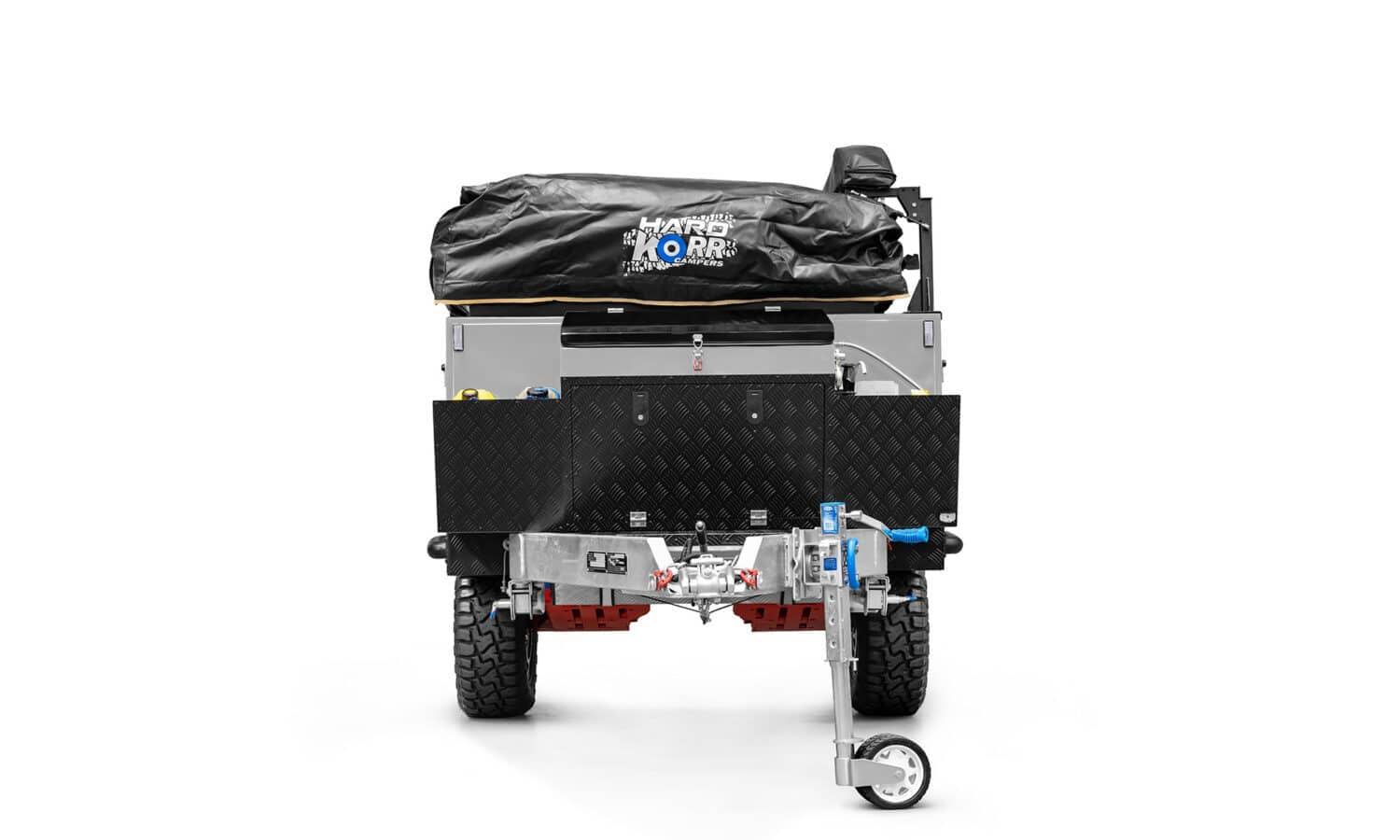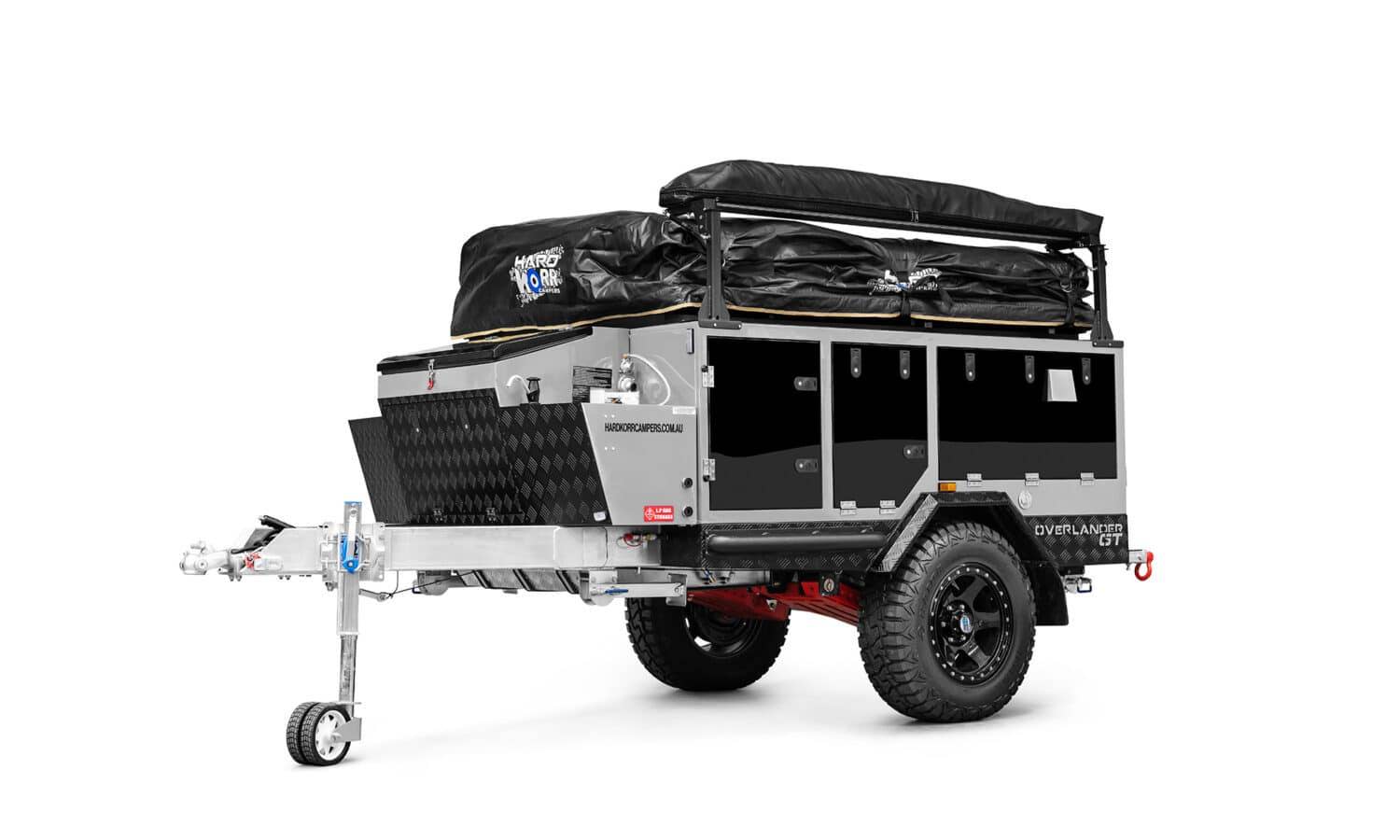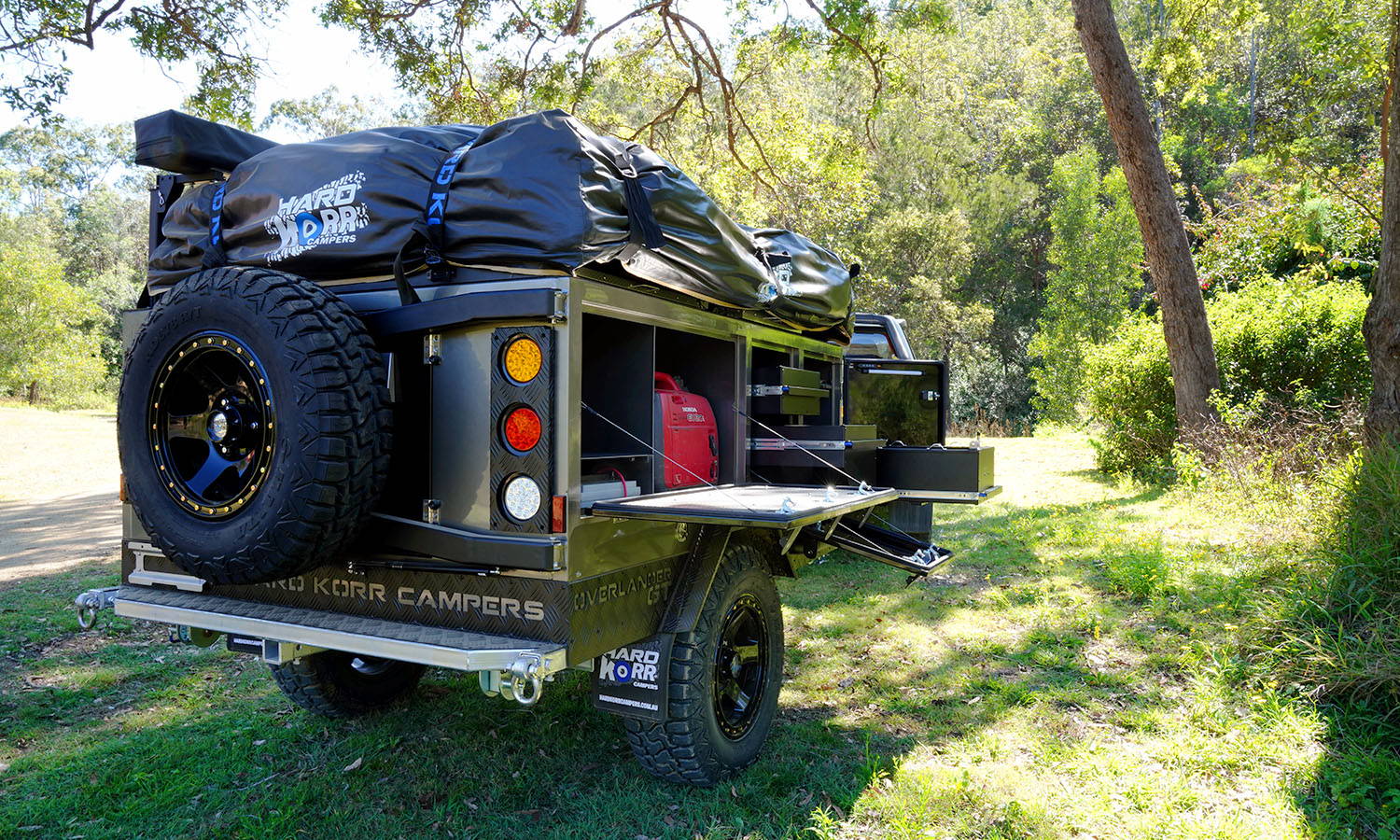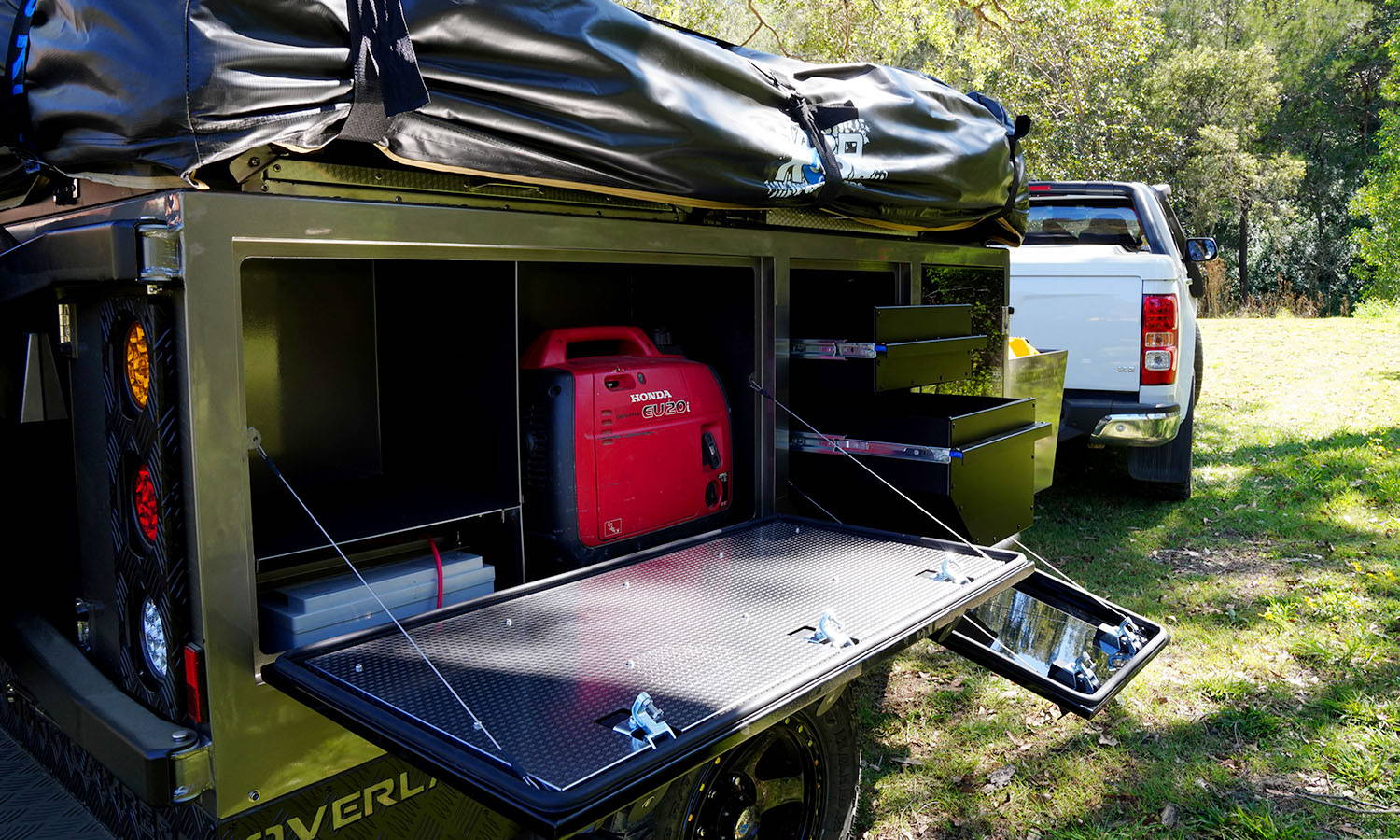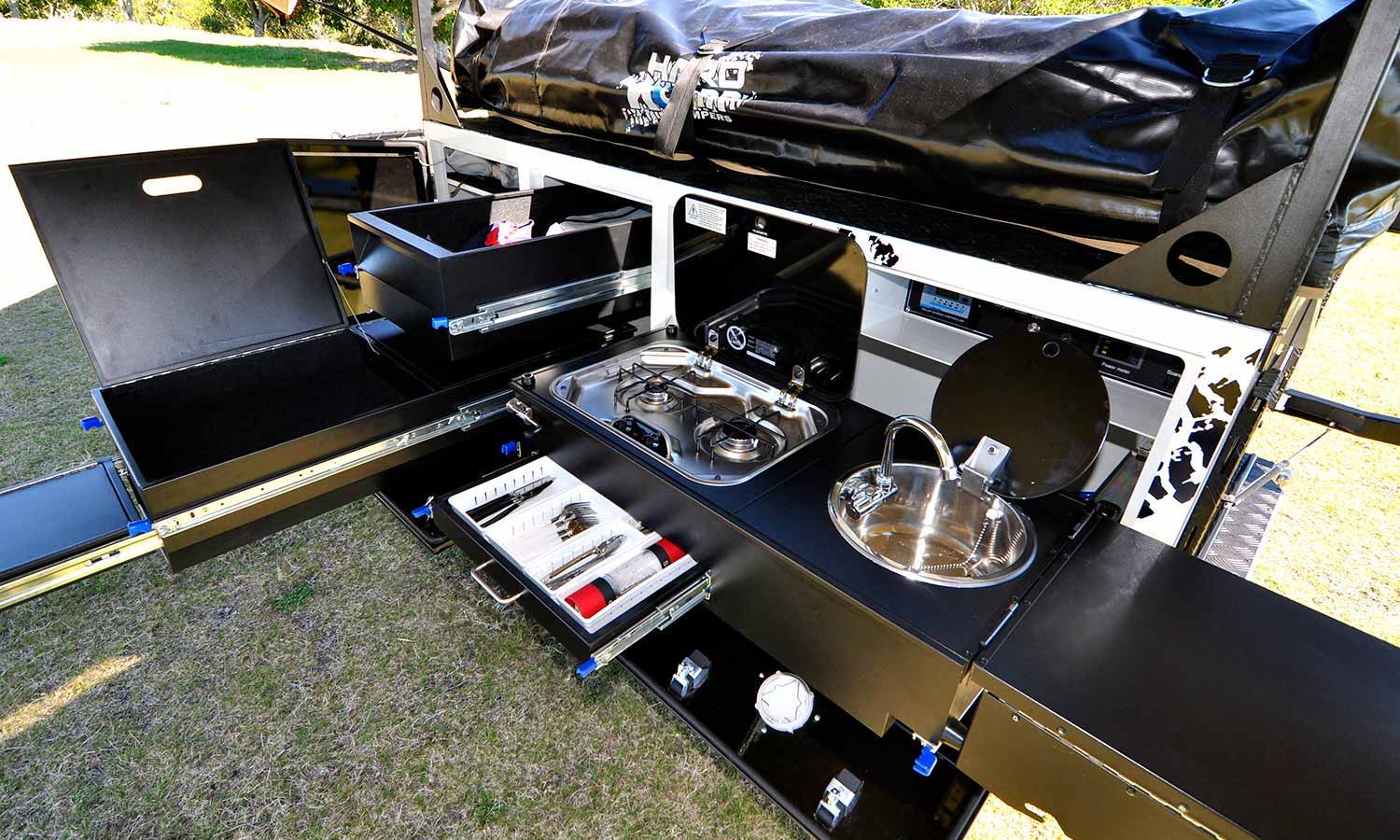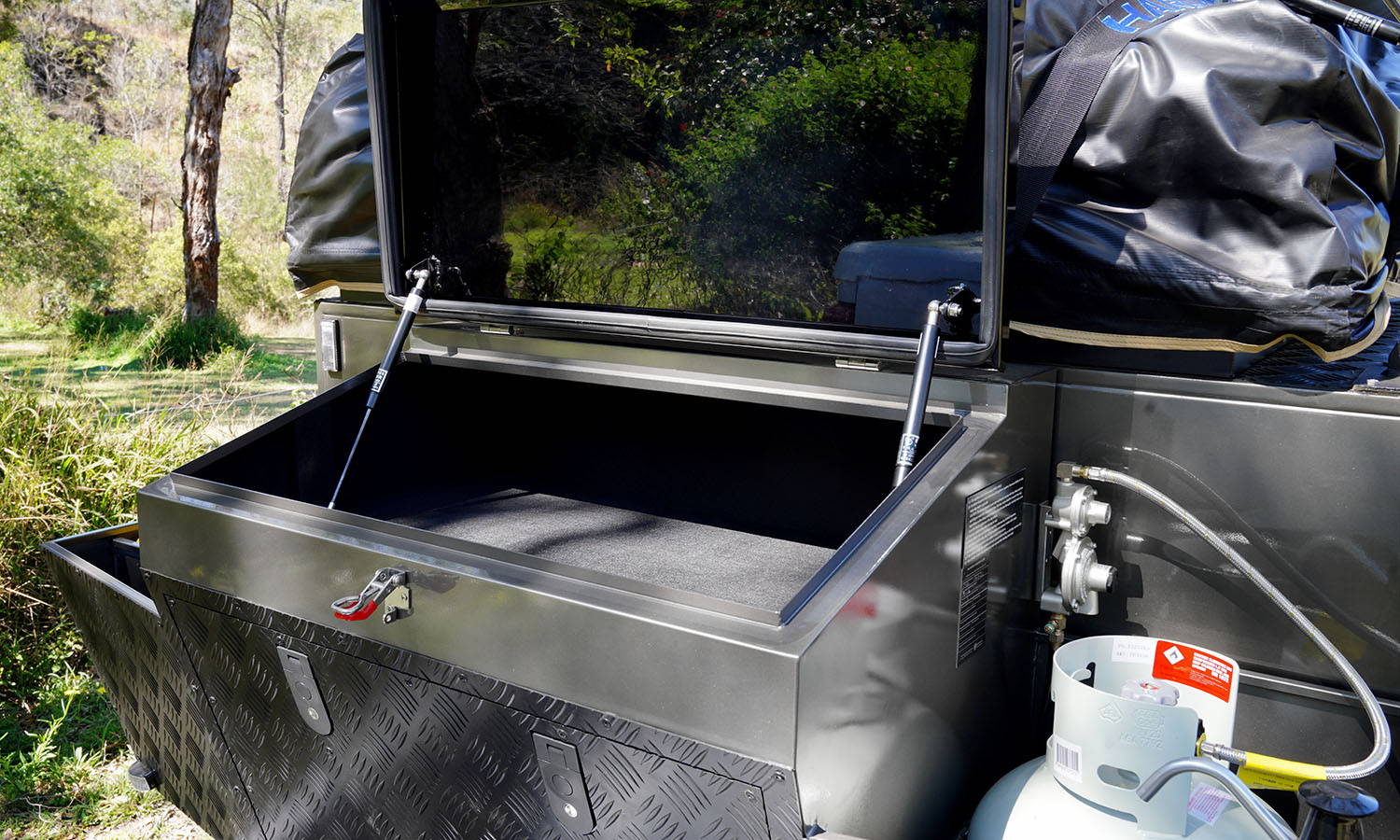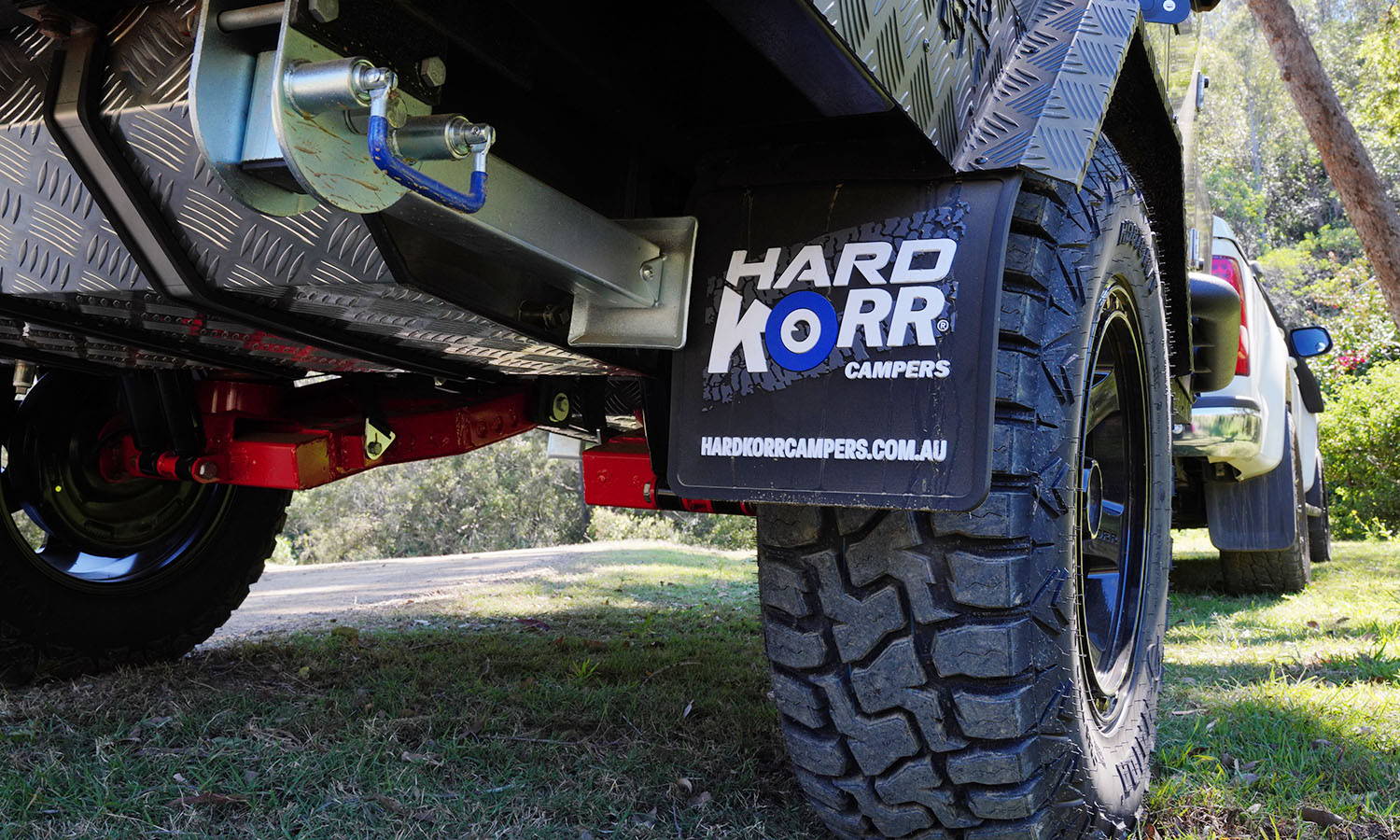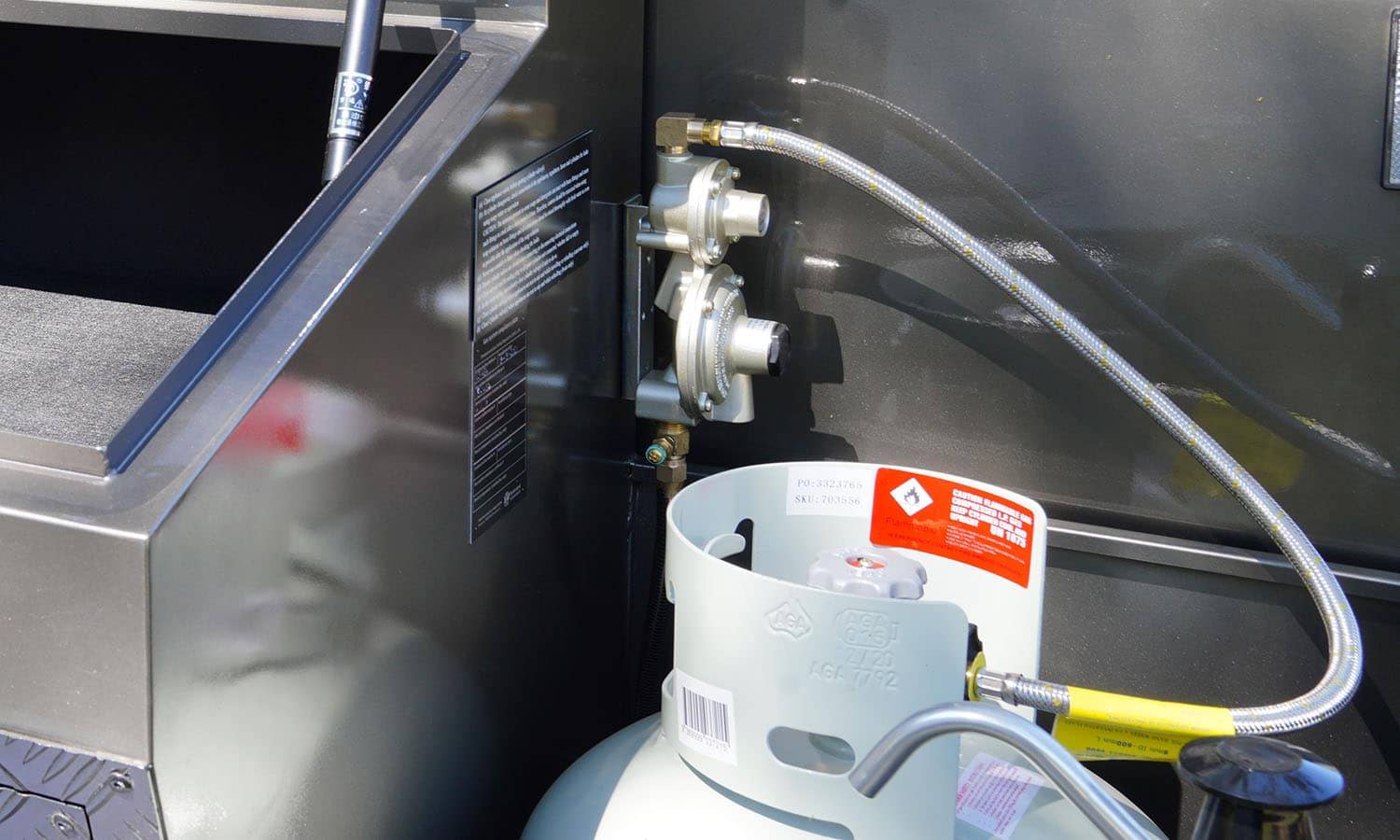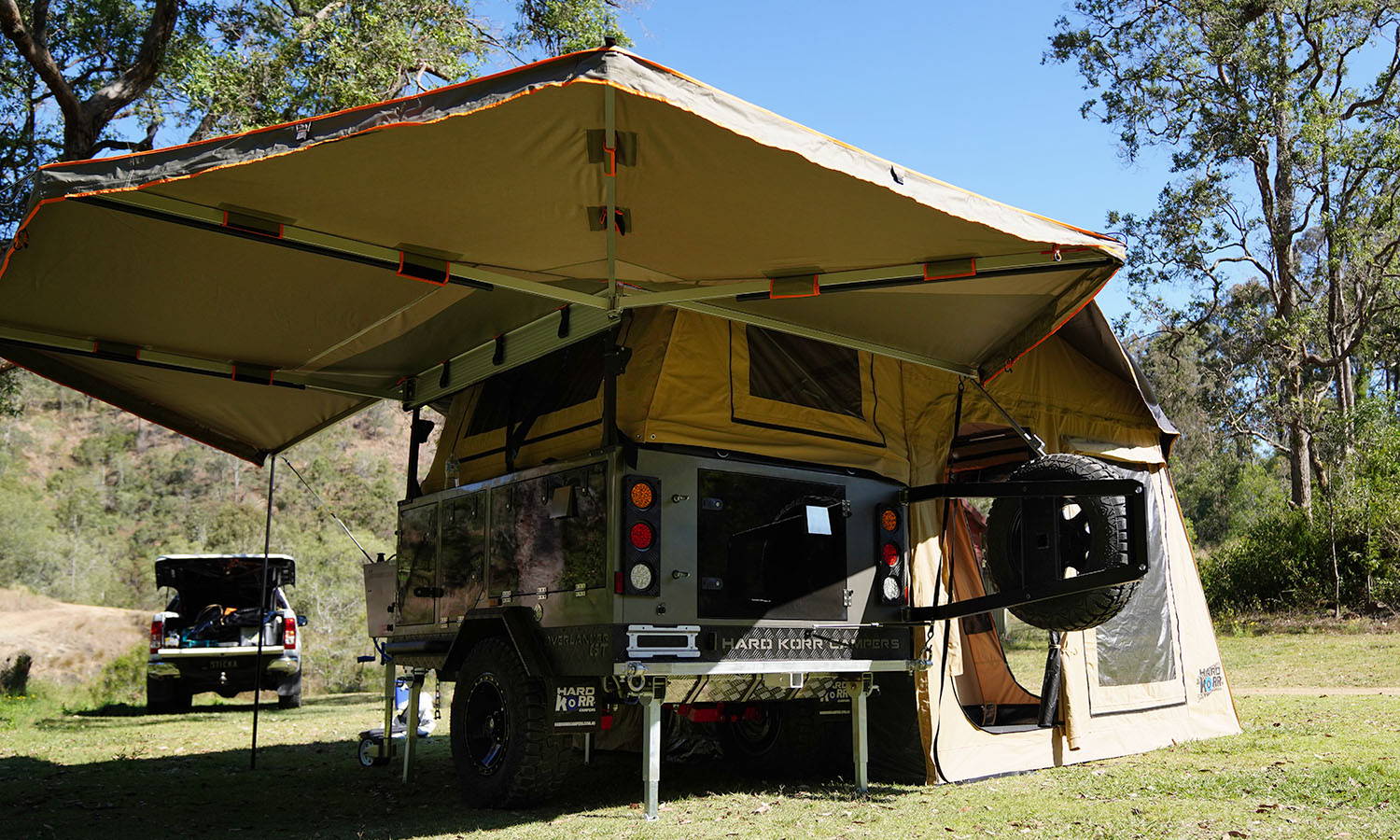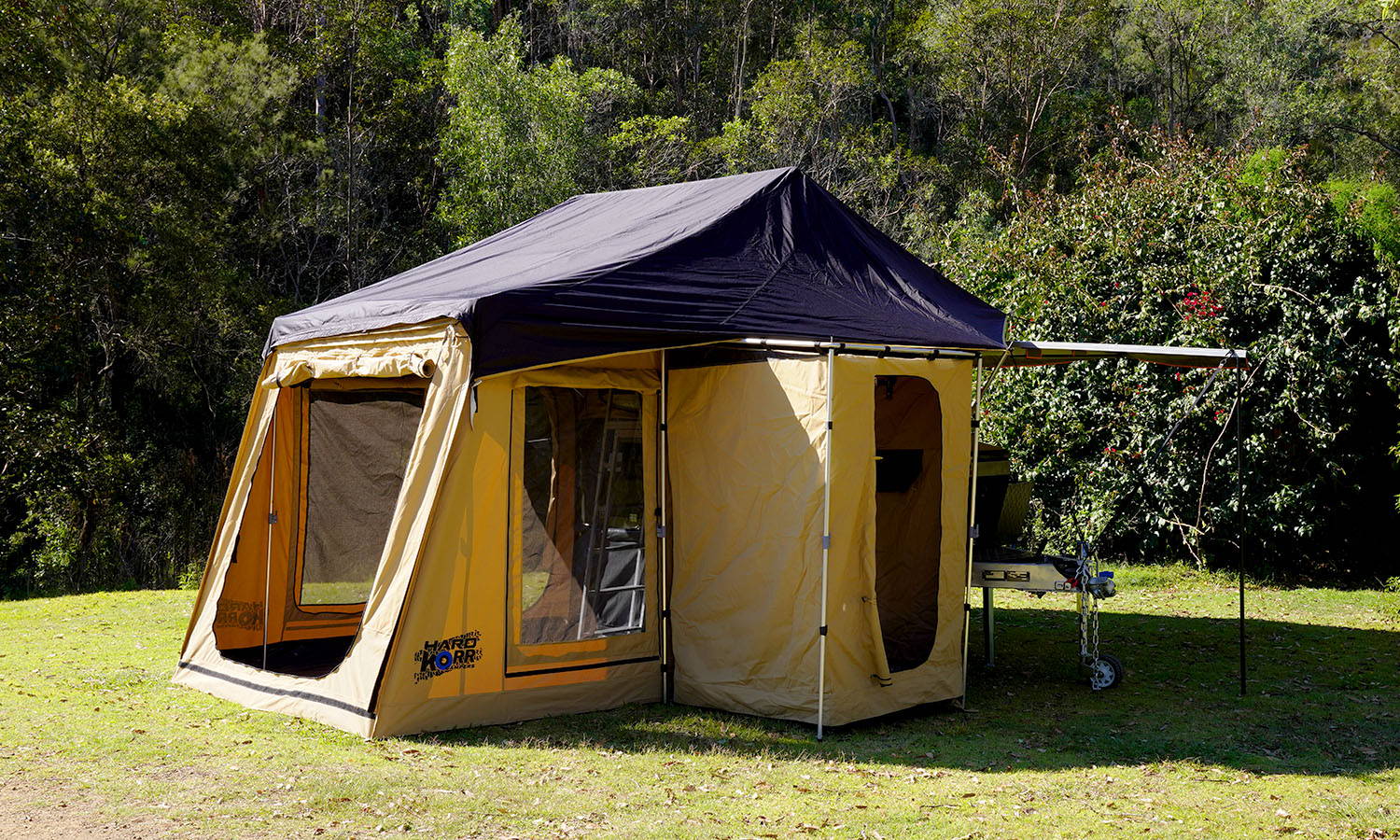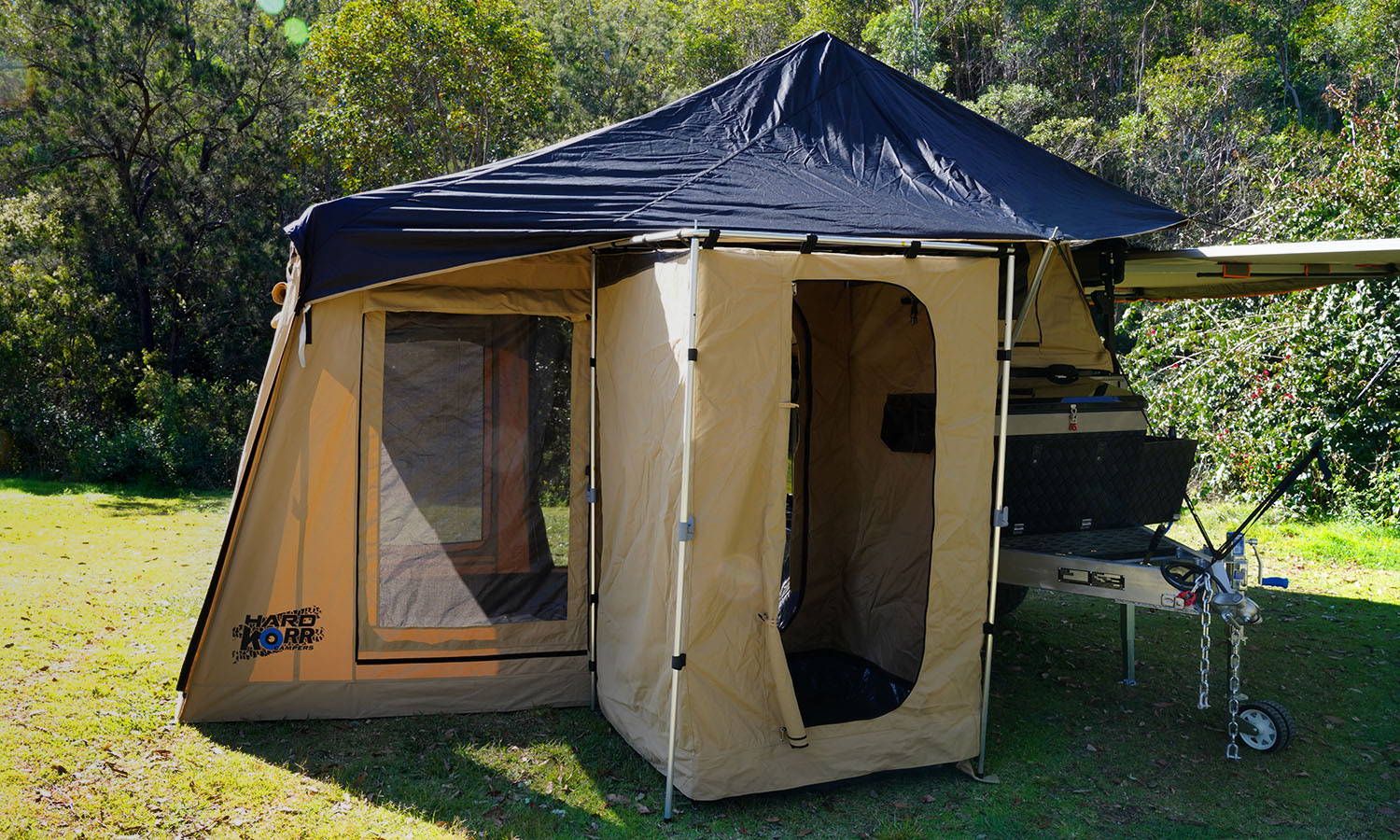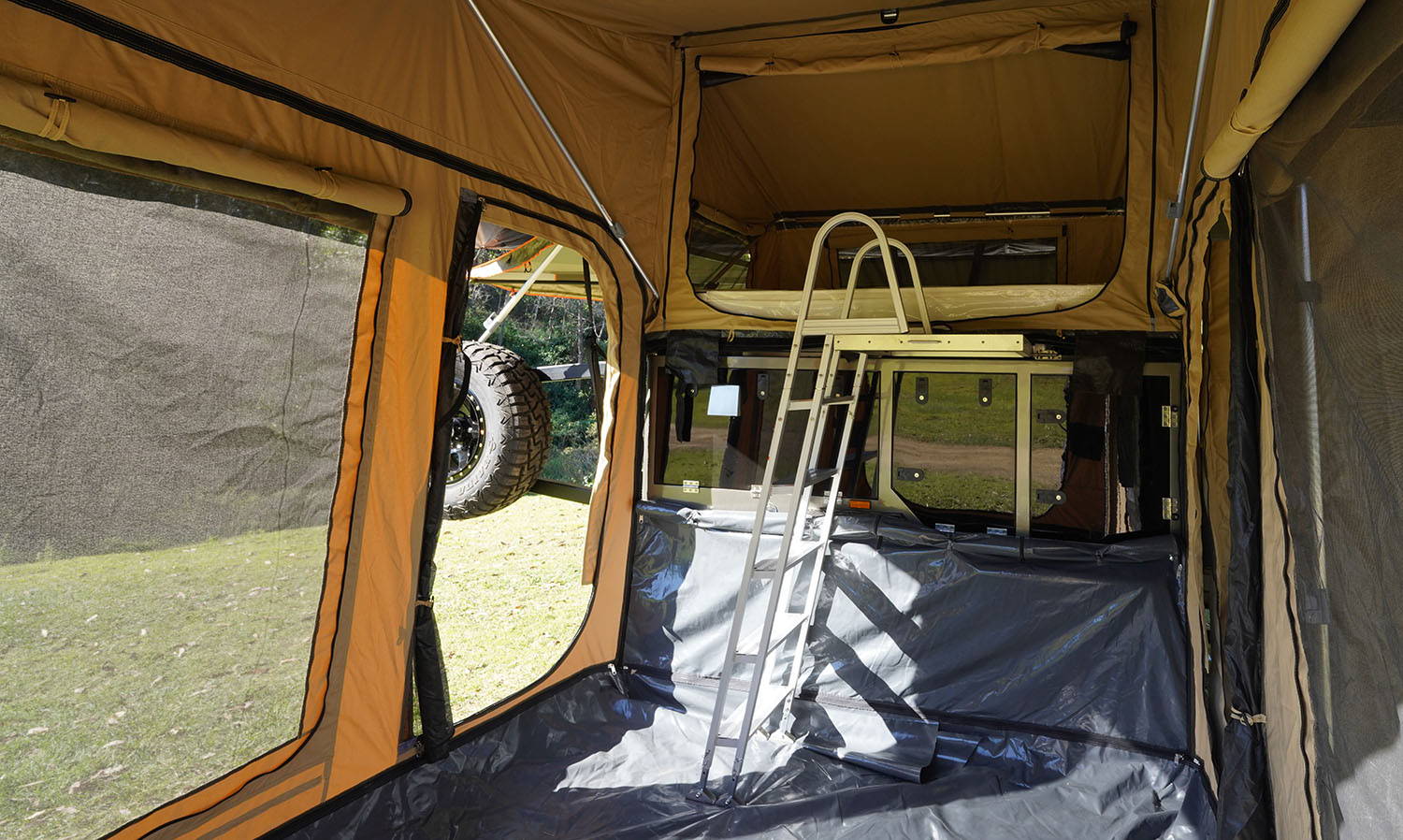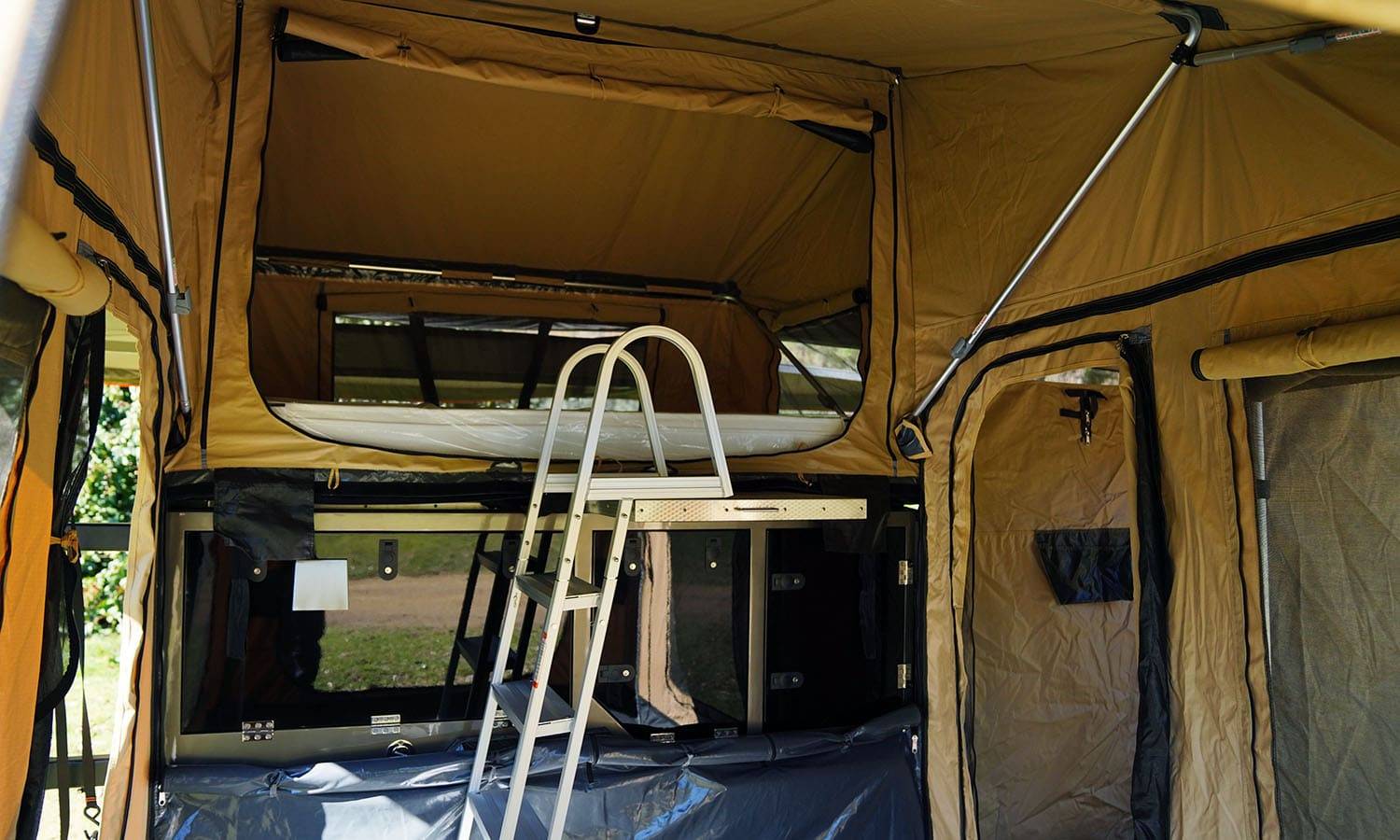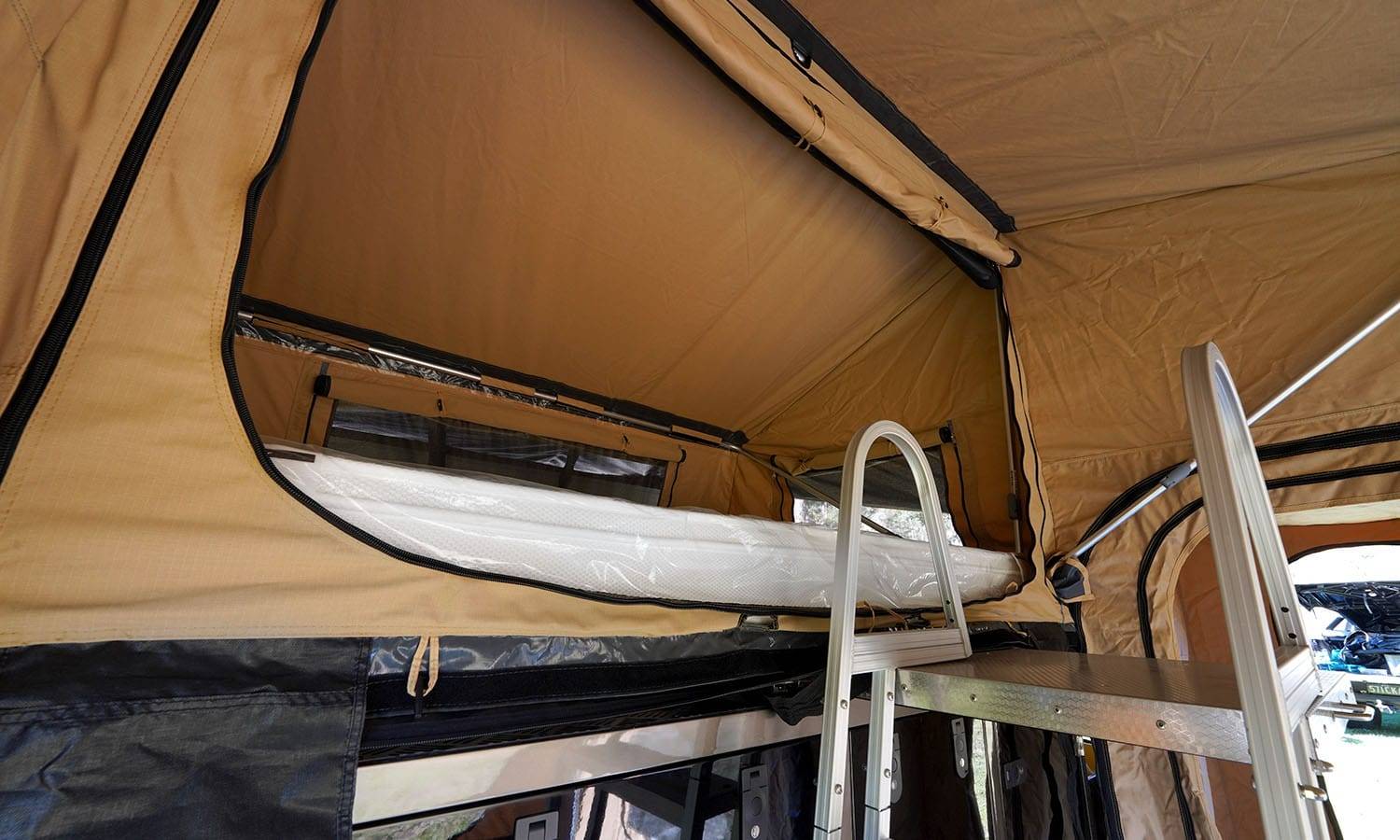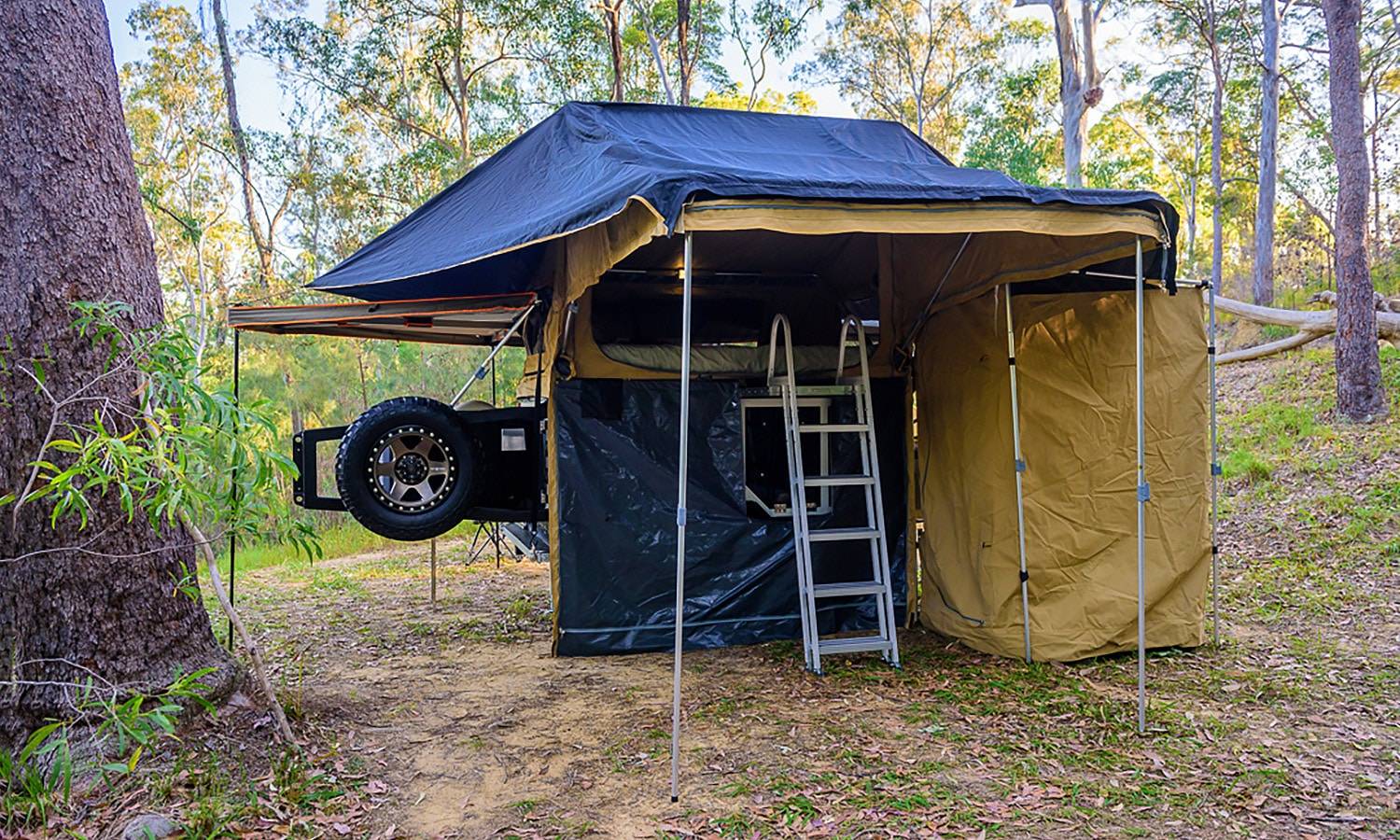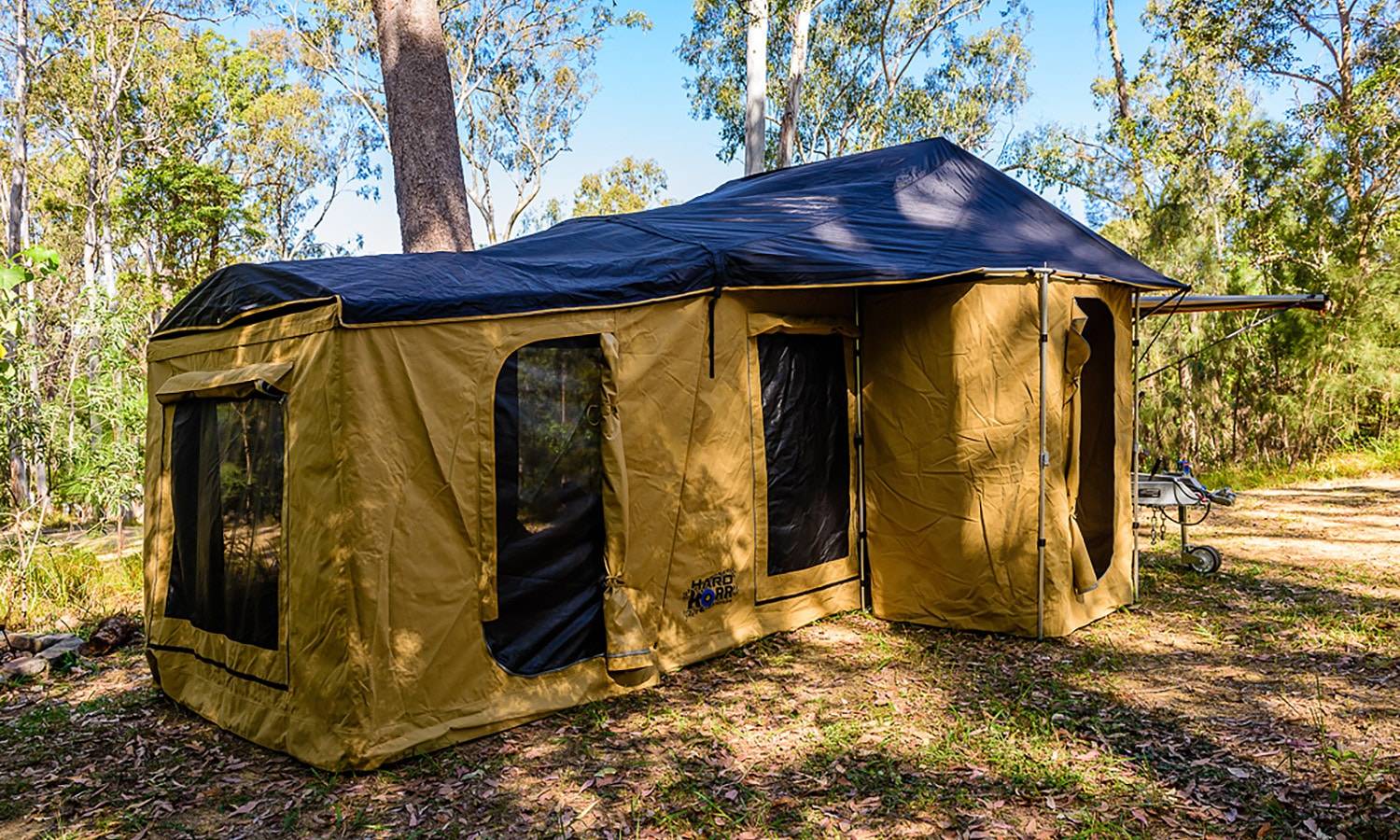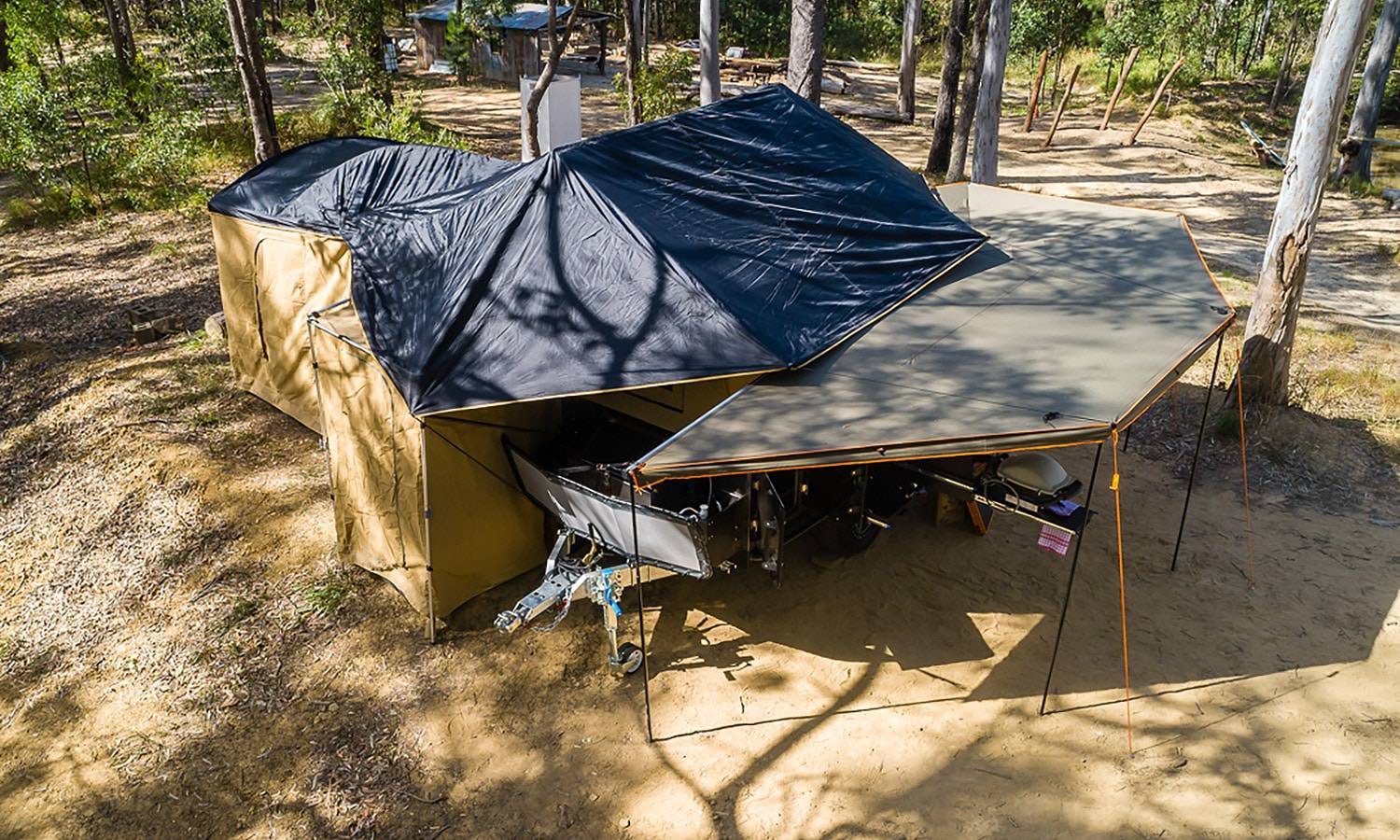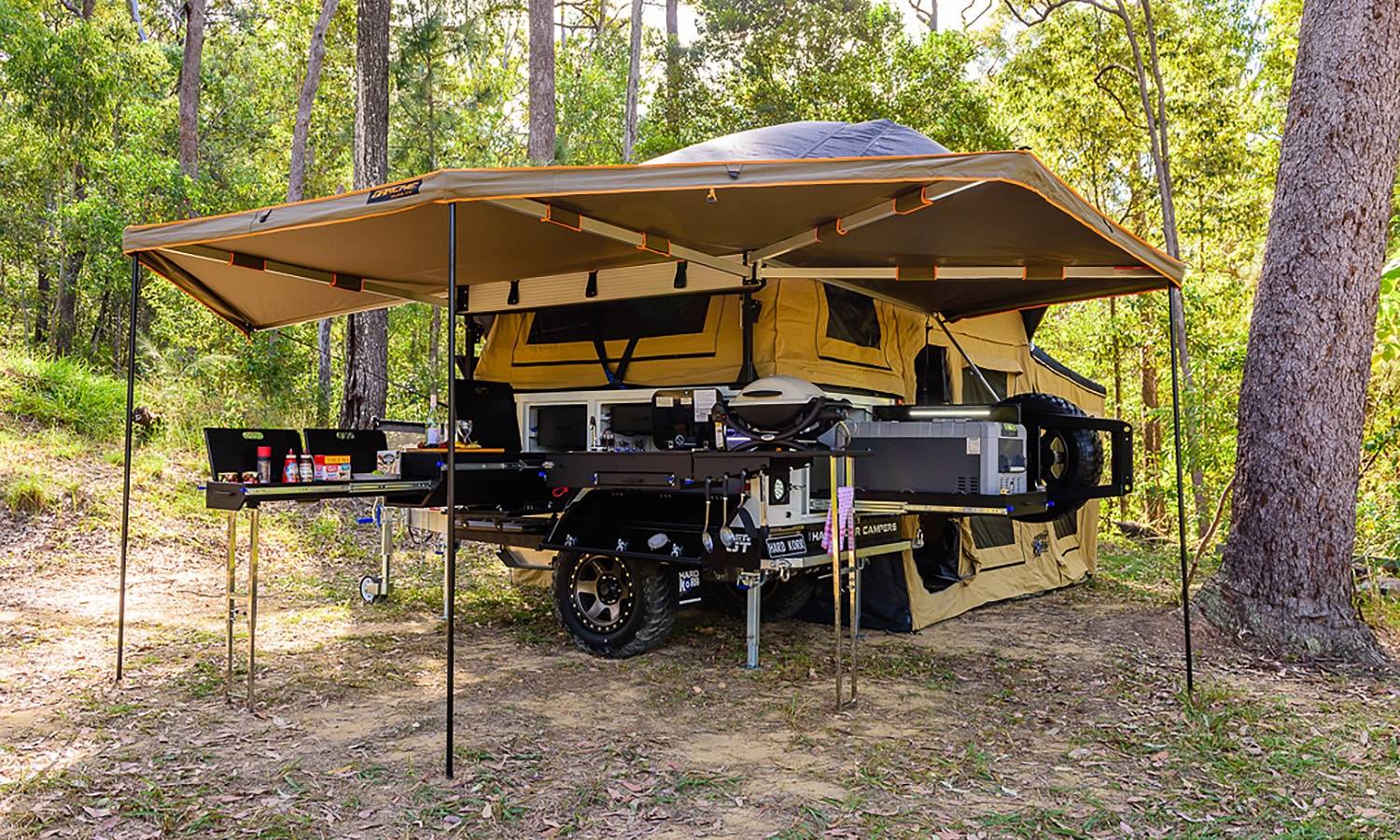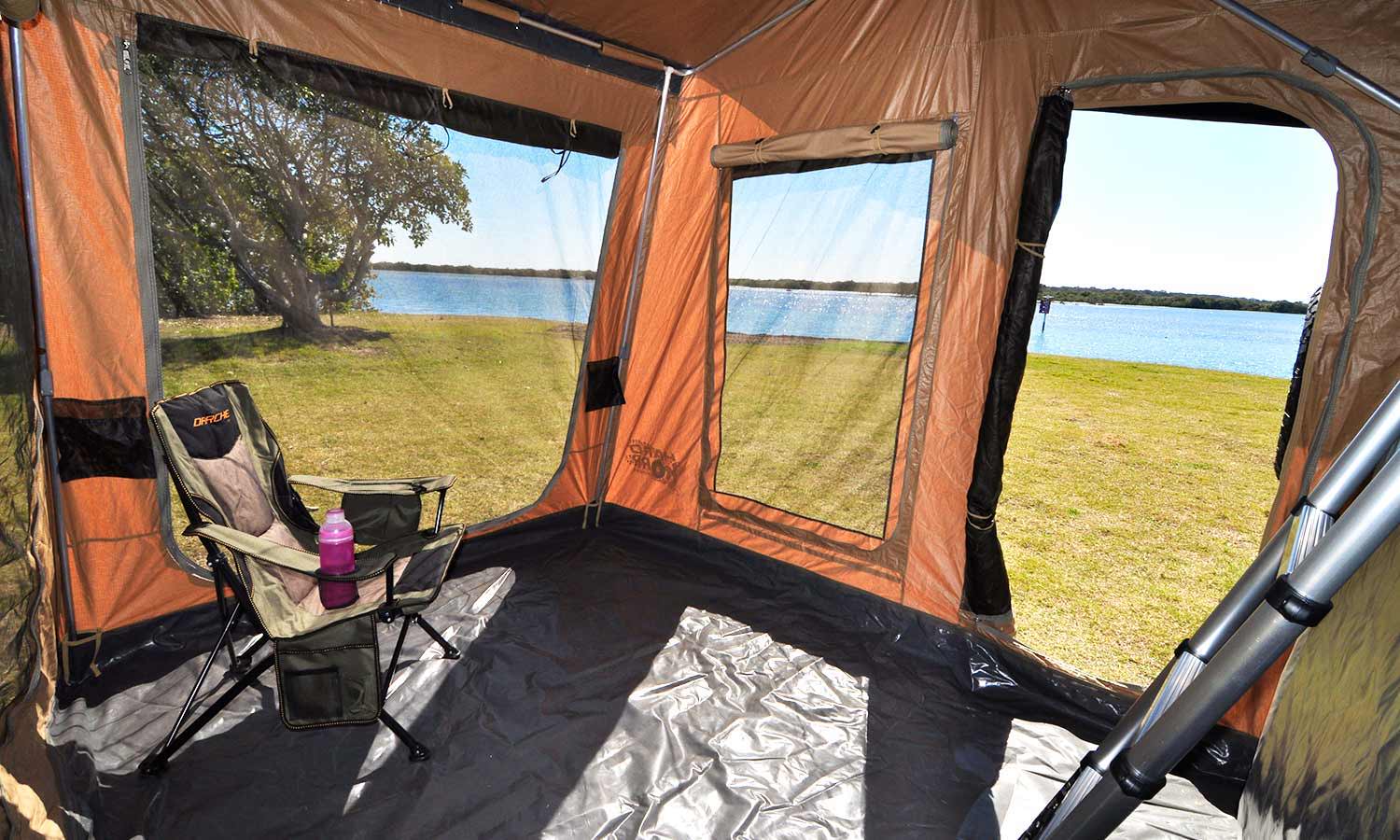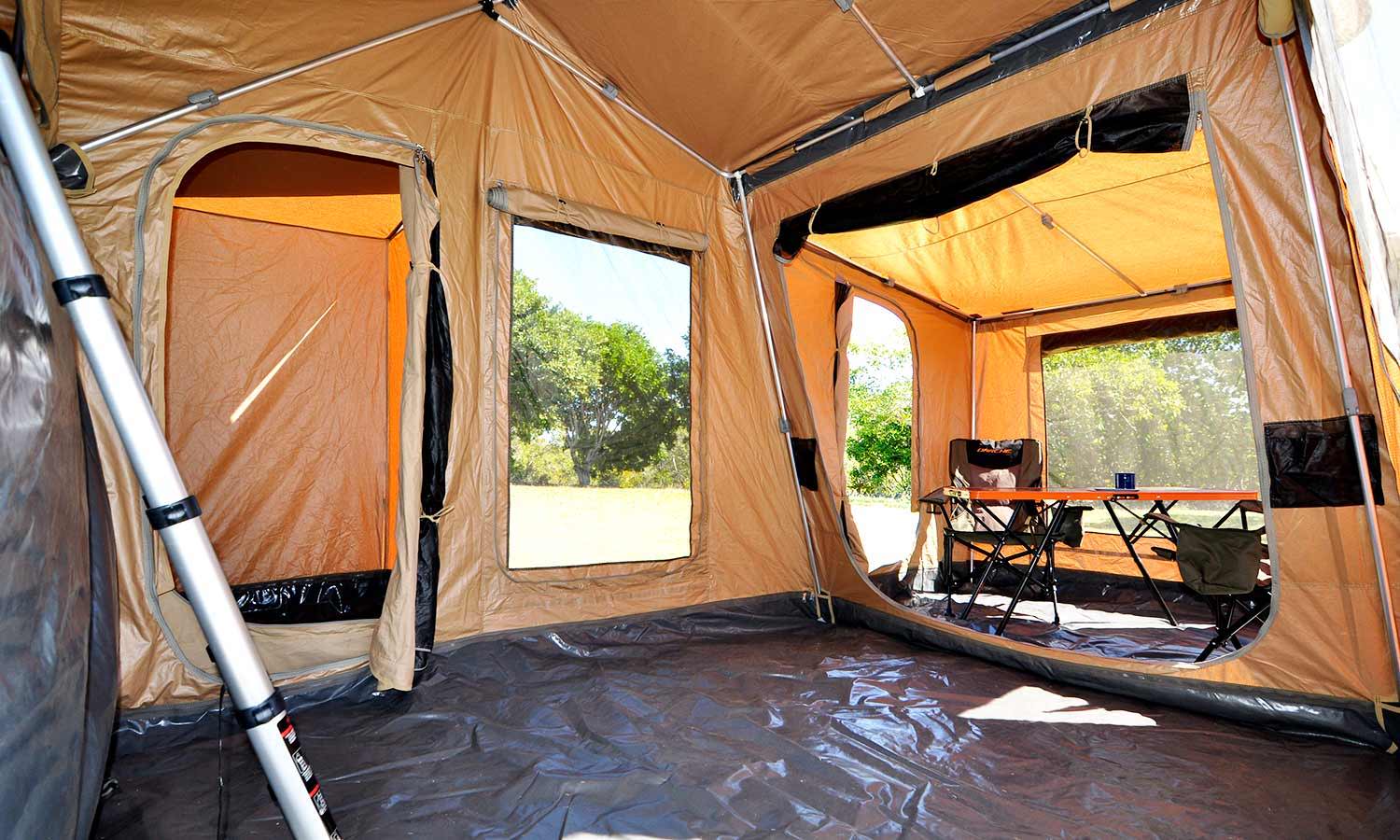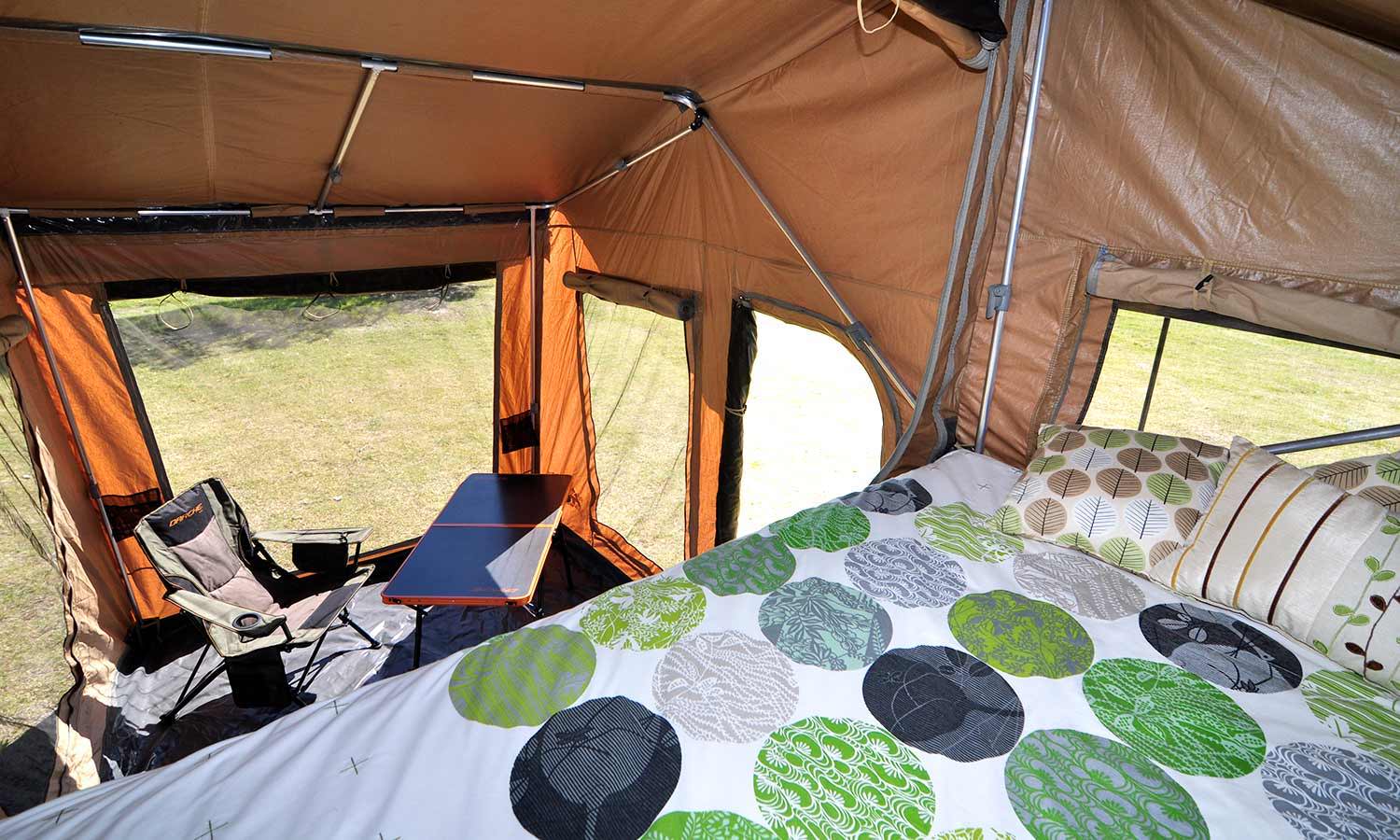 Class Leading Storage
When it comes to camper trailers, there simply aren't many on the market that consider storage. On the other hand, the Overlander GT has been designed to maximise available storage space.
In fact, with over 3,300L of storage and space for up to a 110L fridge/freezer, you'll be able to bring along everything you need on the next camping trip.
Best of all, you can access all of this storage without having to set up your camper trailer.

Designed in Australia
Our team has been designing camper trailers in Australia for over a decade, and the latest Hardkorr range of trailers is a perfect example of why this is important.
When you are heading off-road, you need a camper that is tough and agile enough to handle everything you throw at it - something that's been battle-tested in actual Australian conditions.
We design our camper trailers to survive and thrive in our unique environment, whether you're exploring vast deserts, dark rainforests, rutted bush tracks or our beautiful beaches.
Features

Layout

Specs

Brochure
GO ANYWHERE. TAKE ANYTHING.
The Overlander GT is a full-sized camper trailer which provides excellent comfort and off-road capability. This trailer has been engineered for ease of use, and makes clever use of space to maximise storage without becoming bulky or unwieldy.
AUSTRALIAN DESIGNED AND TESTED.
We tasked some of Australia's most dedicated adventurers with the job of producing the ULTIMATE camper, the criteria was simple, make it 'cape-ready' with no compromise on comfort or storage.
The result? A go-anywhere, no-BS camper. Built with meticulous attention to detail, every camper is built with all the good bits, a full chassis, heavy duty suspension, a feature packed kitchen, and a general air of common sense.
FULL GALVANISED CHASSIS
For incrdible strength and durability
AL-KO 50MM HITCH
360 Degree coupling designed for off-road use
2-PAC PAINT (3 COATS)
High quality finish for ultimate durability and shine
HEAVY-DUTY SUSPENSION
Fully independent with twin big-bore gas shocks
ARK 750 OFF-ROAD JOCKEY WHEEL
The toughest, most advanced jockey wheel in Aus
HIGH-QUALITY CANVAS
480gsm ripstop canvas with midgie screens
LARGE CHEF'S KITCHEN
Easily connect up your shower, wherever you are
STAINLESS STEEL SINK & TAP
Makes cleaning up after meals a breeze
DOMETIC 2-BURNER GAS STOVE
AGA Approved - boil a kettle or cook a feast
12V WATER PUMP
With isolation vales - keep fresh and grey water apart
FRONT SHOWER POINT
Easily connect up your shower, wherever you are
HOT WATER PLUMBING TO SINK
Ready for you to connect your portable hot water syste
DUSTPROOF AND WATERPROOF DOORS
Double compression locks, automotive weather seals
4 X STABLISER LEGS
Ensures your trailer remains stable on uneven terrain
REAR FRIDGE SLIDE
Easily accessible, fits up to a 96l fridge
SPACE FOR 2 X 20L JERRY CANS
Saftely and decurely carry extra fuel or water on board
SPACE FOR GENERATOR
With slide out drawer for easy access and stowage
SPACE FOR WEBER BBW
Fits Weber Baby Q perfectly
ANDERSON PLUG FOR FRIDGE
Conveniently located at the rear of the fridge slide
HARDKORR LED LIGHTS THROUGHOUT
With custom switches inside the main power panel
FULL FEATURED 12V SETUP
12V & USB outlets, solar regulator, battery monitors
2 X 100AH AGM BATTERIES
Upgrade to lithium for ultimate reliability & longevity
DARCHE ECLIPSE 270 DEGREE AWNING
Ultimate proection from sun and rain
HARD-WEARING BLACK CHECKERPLATE TRIM
On rear step, top box, wheel guards & under rooftop tent
WELDED REAR STEP
Heavy Duty rear step welding into the chassis
RATED REAR RECOVERY POINTS
Rated up to 5 tonnes
ALLOY WHEELS & MT TYRES
For better off-road performance and custom look
QUEEN SIZE INNER-SPRING MATTRESS
With pillow top for a great night's sleep
VIDEO: SETTING UP THE OVERLANDER GT
VI

DEO: PACKING DOWN THE OVERLANDER GT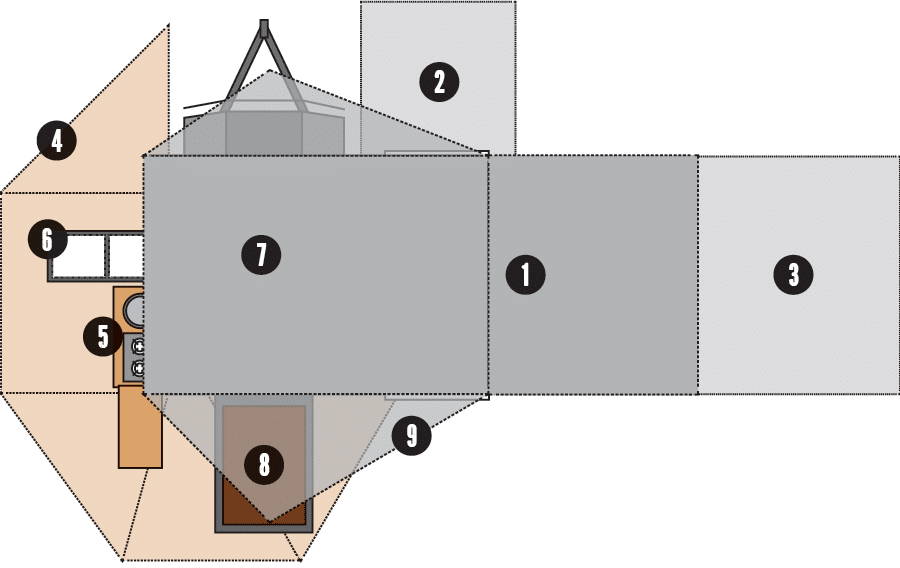 CHASSIS
BODY
CAMPER HITCH
SUSPENSION
HUB BEARINGS
PAINT FINISH
JOCKET WHEEL
Hot-dip galvanised steel 150mm x 50mm
Zinc-Coated Steel
Premium Alko 360° 50mm ball
Heavy-duty independent dual big-bore gas shocks
Heavy-duty parallel
Three coat system, 2-pac enamal
ARK XO 750
TOTAL LENGTH
TOTAL WIDTH
TOTAL HEIGHT
GROUND CLEARANCE
WHEEL TRACK
DEPARTURE ANGLE
RAMP OVER ANGLE
TARE WEIGHT
ATM WEIGHT
BALL WEIGHT
WATER CAPACITY
WHEELS & TYRES
FRIDGE SLIDE
STORAGE
4,050mm
1,850mm
2,000mm
450mm
1,550mm
20°
125°
1,290kg
2,00kg
100kg
200L
265/70/R17 MT (32")
1000mm (L) x 607m (W) x 577mm (H)
3,300 (Approx)
The Hardkorr Campers Guarantee
All Hard Korr Campers® products are manufactured using the highest quality materials. We are confident that they are the most durable in the market and will give you many years of reliable service. We stand behind this product with a comprehensive 5-year structural warranty.