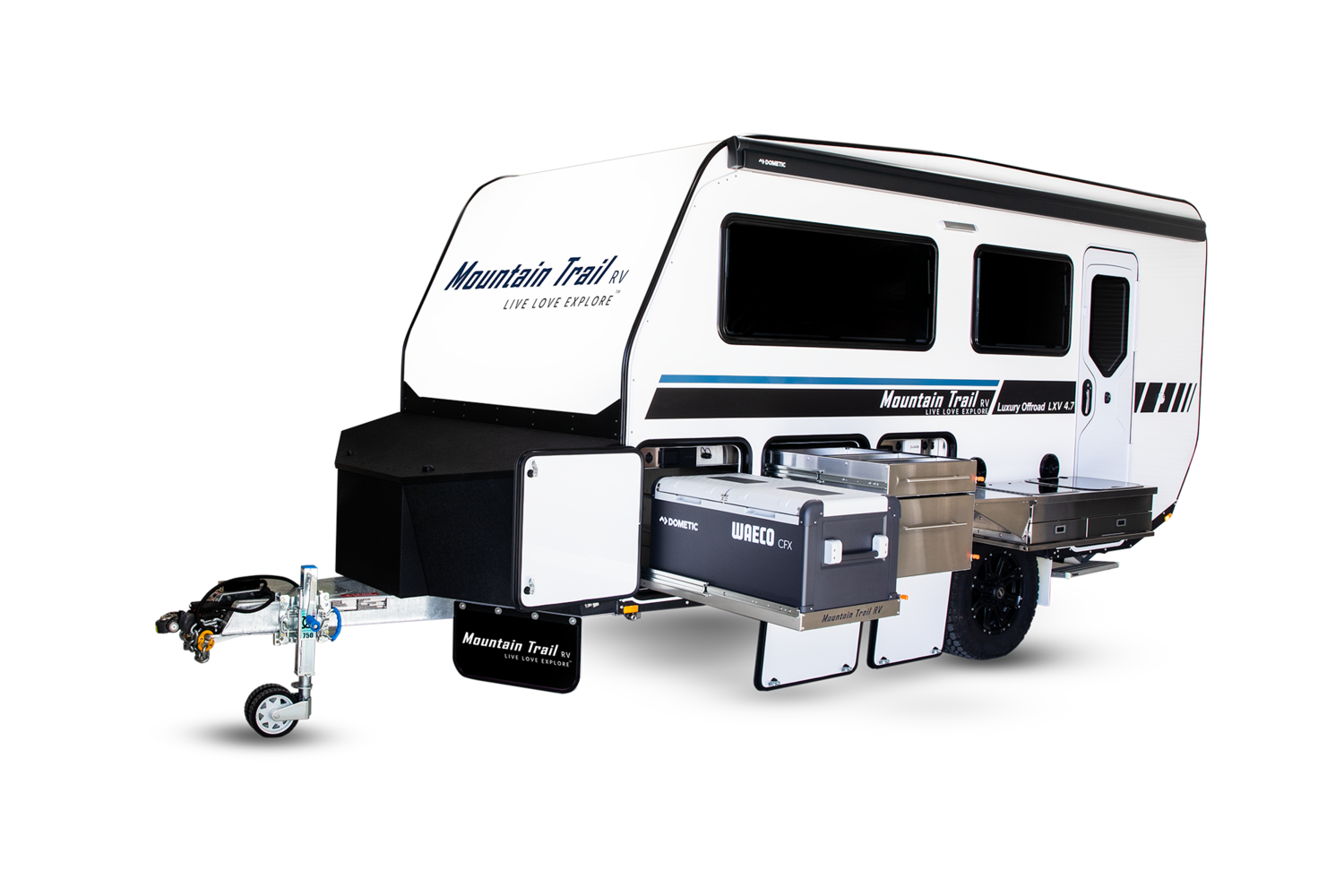 Internal Length: 4612mm
Overall Length: 6310mm
Internal Width: 1910mm
Overall Width: 2090mm
Overall Height: 2800mm
Tare Weight: 1950kg
ATM: 2800kg
Ball Weight: 180kg
Fresh Water: 125 Litres + 75 Litres
Grey Water: 85 Litres
Black Water: 18 Litres
Diesel Tank: 12 Litres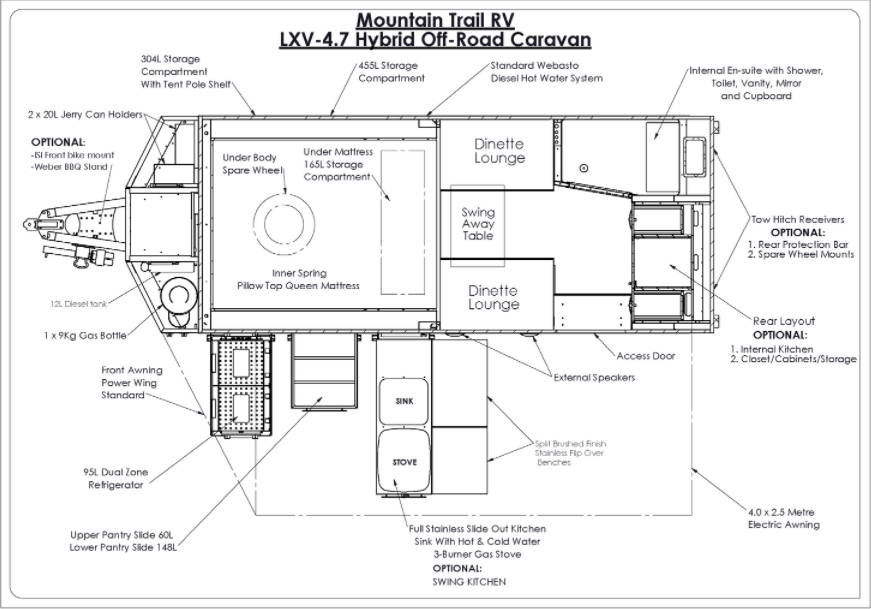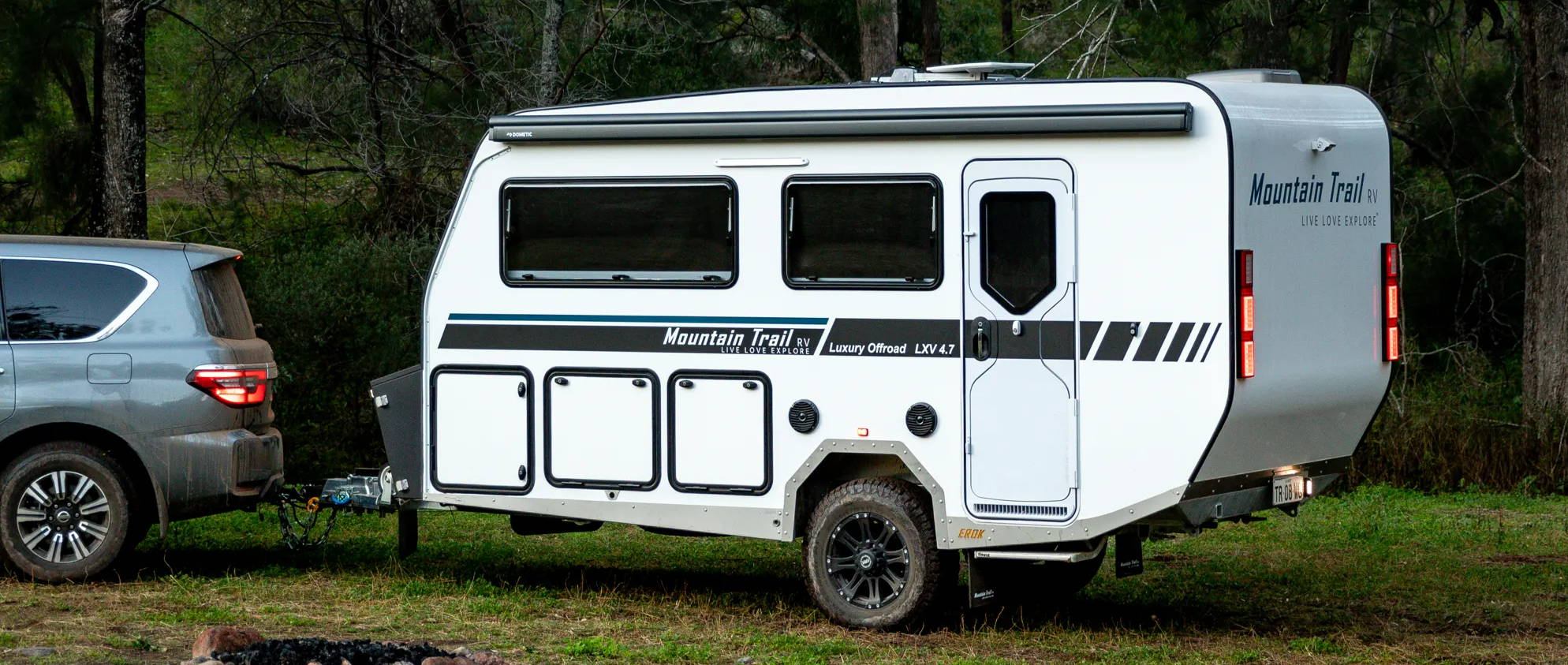 The LXV 4.7 will get you to places others cant…
5 Years

Suspension Warranty
We've made the LXV 4.7 single axel off-road caravan a showstopper. With a tare weight of 1950kg and ATM 2800kg you have great carrying capacity. This also means your tow vehicle choice is endless.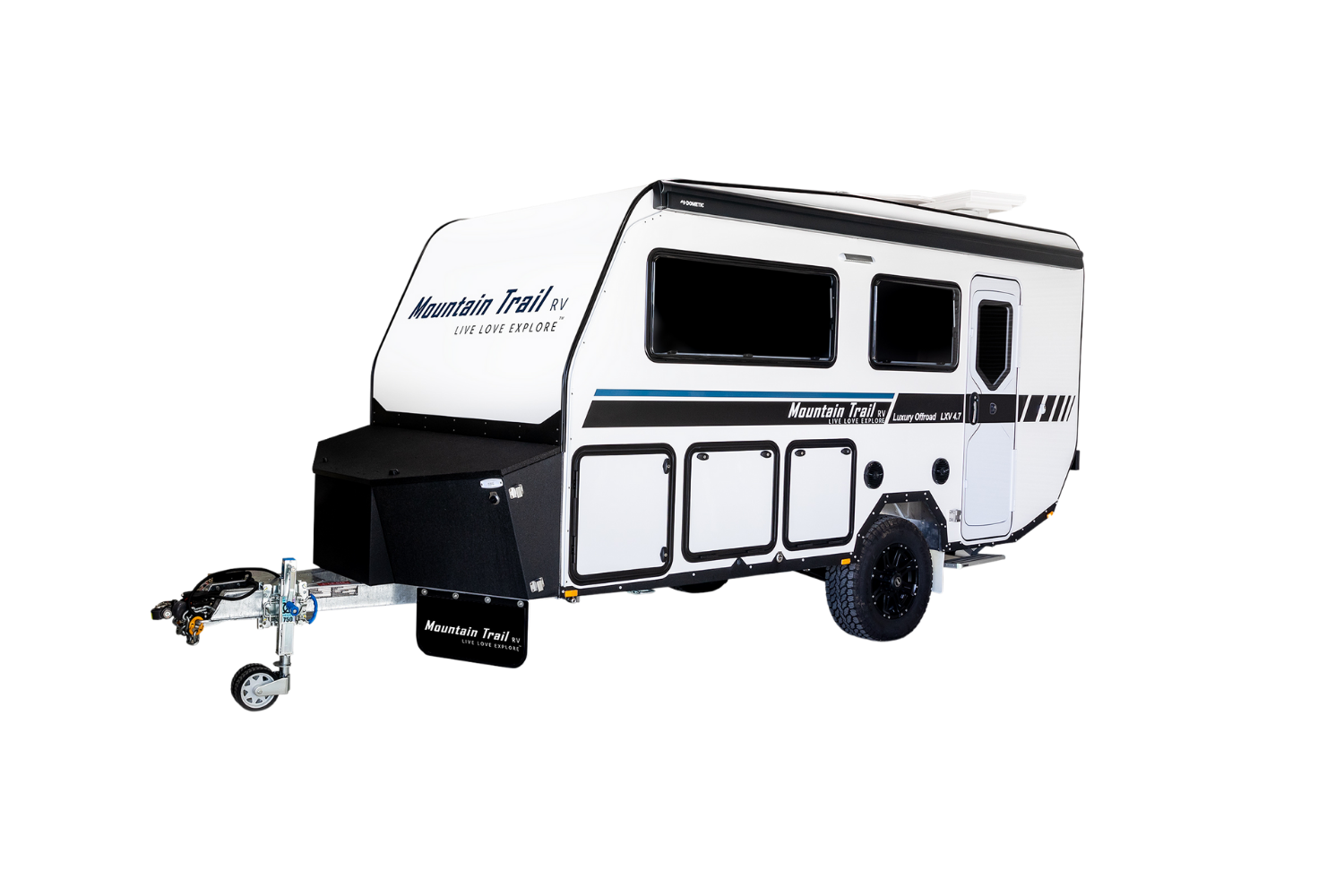 We've designed the LXV 4.7 with a focus on functionality in mind. Every inch is engineered to ensure you get the maximum out of your hybrid off-road caravan. Modular, Rugged and self-contained.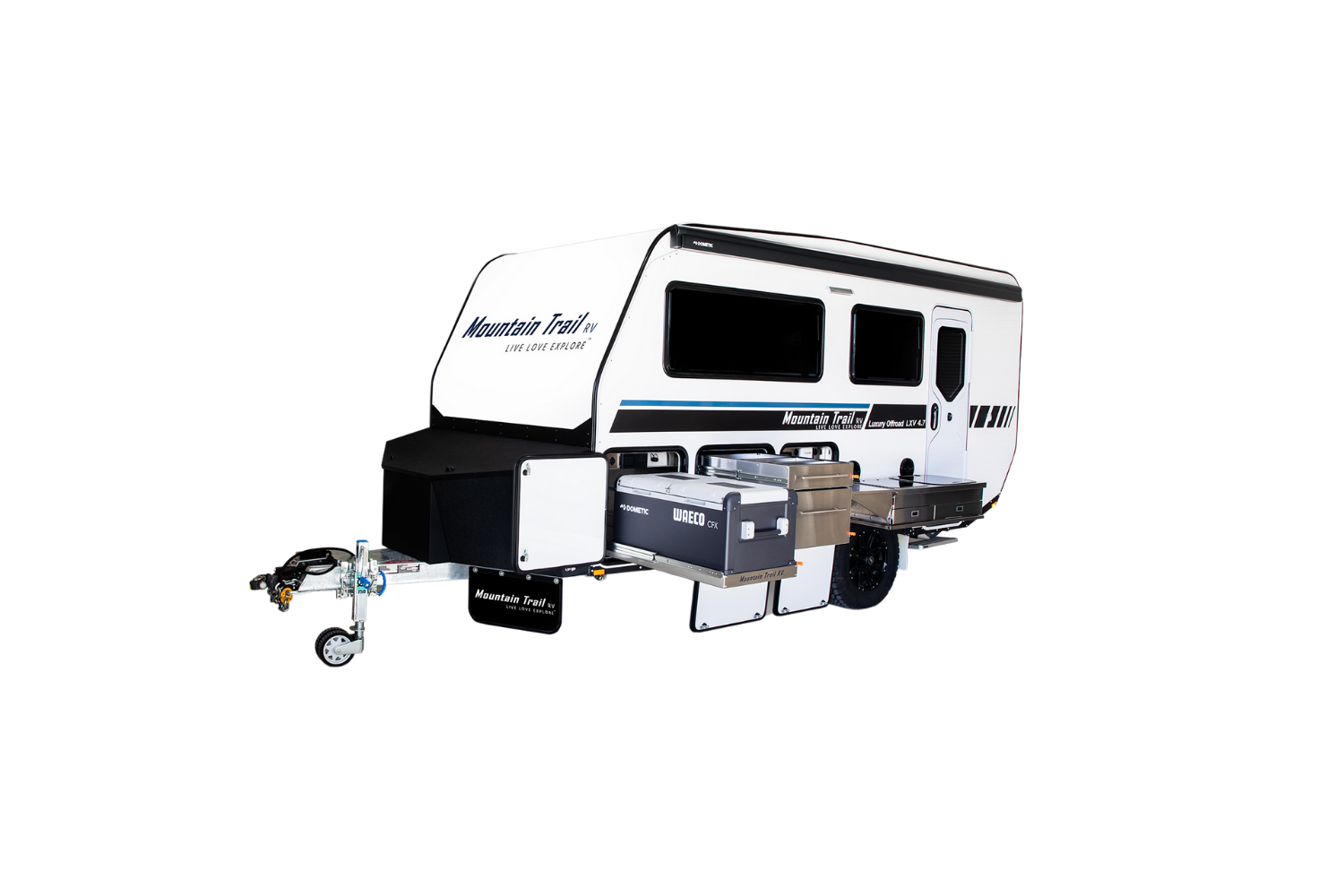 Stainless Steel Slide Out Kitchen
Our full stainless slide out kitchen is designed and engineered to be cooking gourmet meals wherever you go. Featuring ample bench space for food preparation, sink and 3 burner gas stove. Consider upgrading to a swing kitchen at additional cost.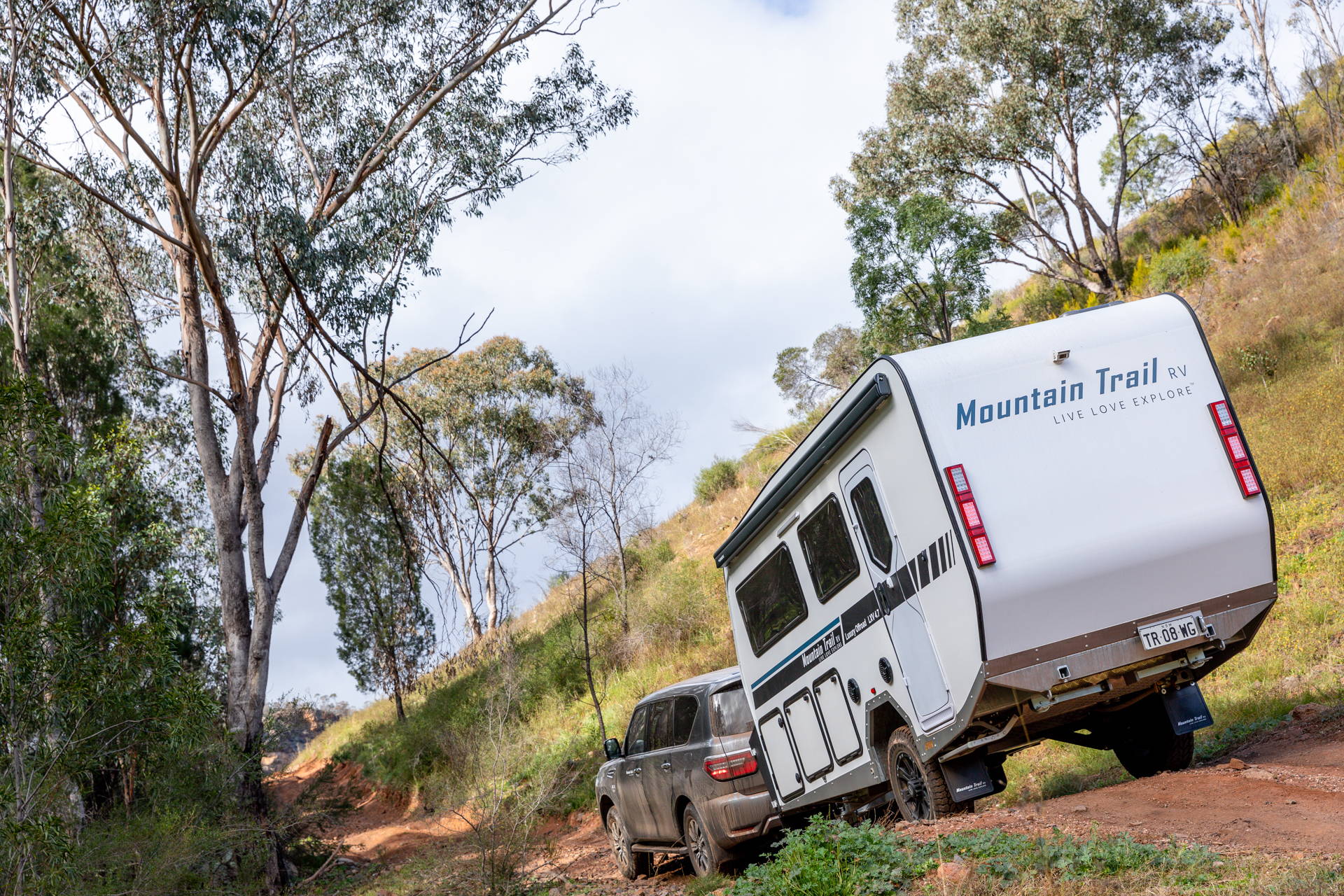 With MTRV designed independent trailing air bag swing arm suspension, 12inch electric brakes, DO35 coupling, you'll be ready for anything. The multi-ride height suspension gives you quick leveling at the simple touch of a button.
Enjoy crystal clear sound with Fusion Entertainment system with both internal and external speakers. 12 volt USB connectivity and 240v sockets throughout all managed by the Redarc Redvision Total Vehicle Management System.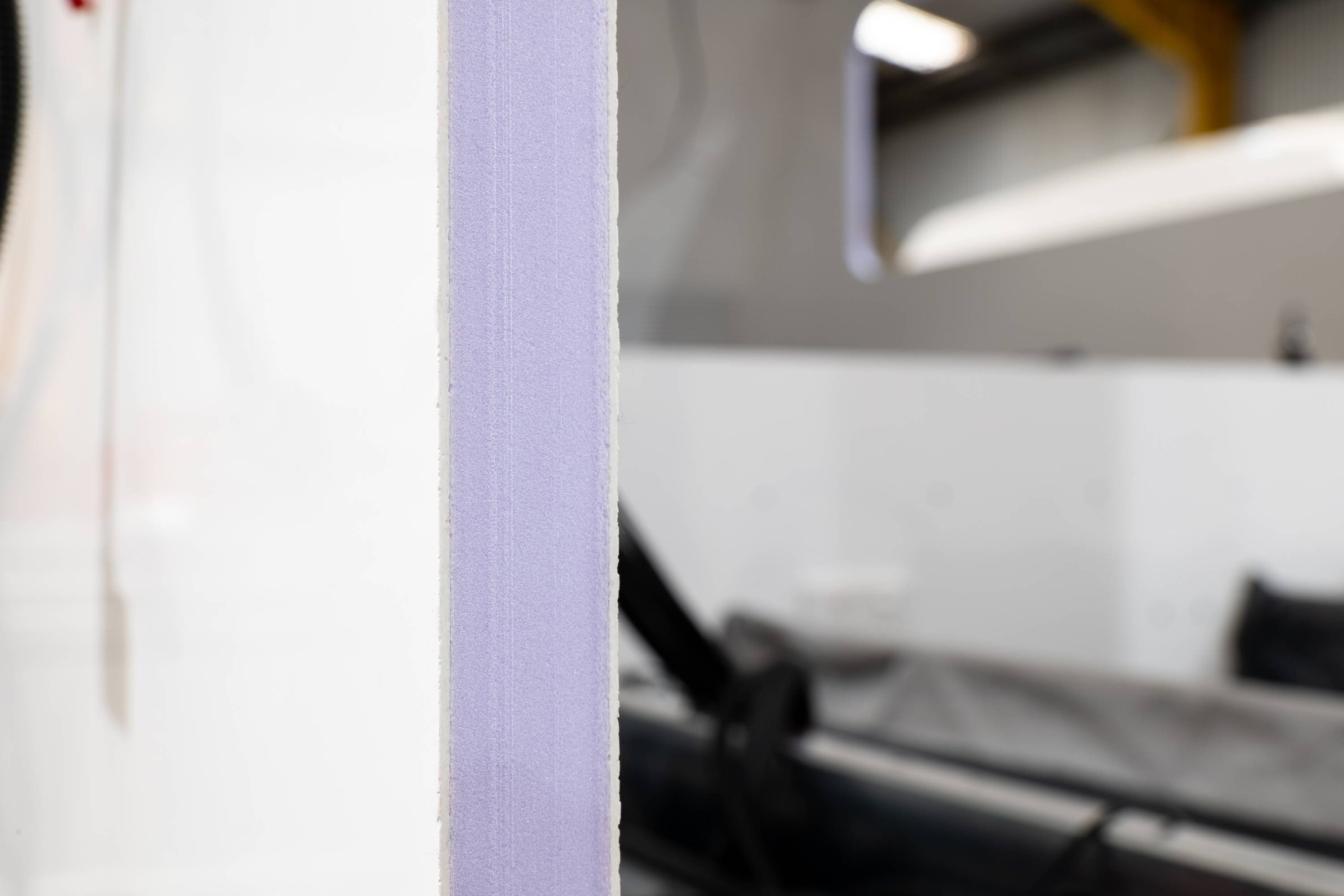 European Composite Wall Panels
We've sourced the best materials in the world to ensure our off-road caravans have the highest insulation properties available. Precision cut in our factory from whole panels utilising CNC (Computer Numerically Controlled) machinery.
The LXV 4.7 is ready to take to the off-road and the harshest of conditions. The MTRV engineered independent trailing swing arm suspension, 8 shock absorbers and multi ride height self-leveling air bags are built to last.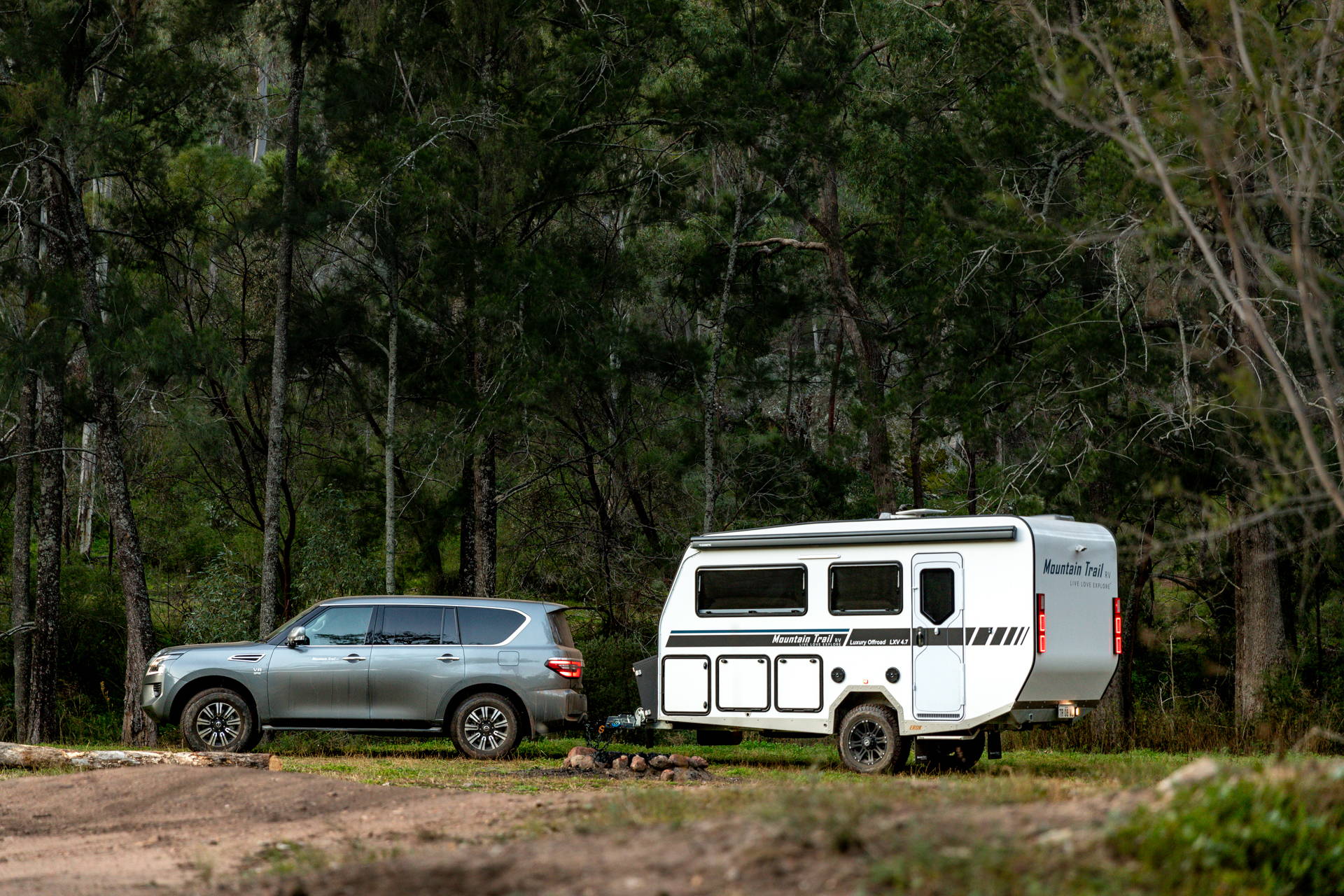 With positive pressure technology in your LXV 4.7 you have the peace of mind that dust will be deterred from entering your off-road caravan. No more pulling up to find a dust filled caravan.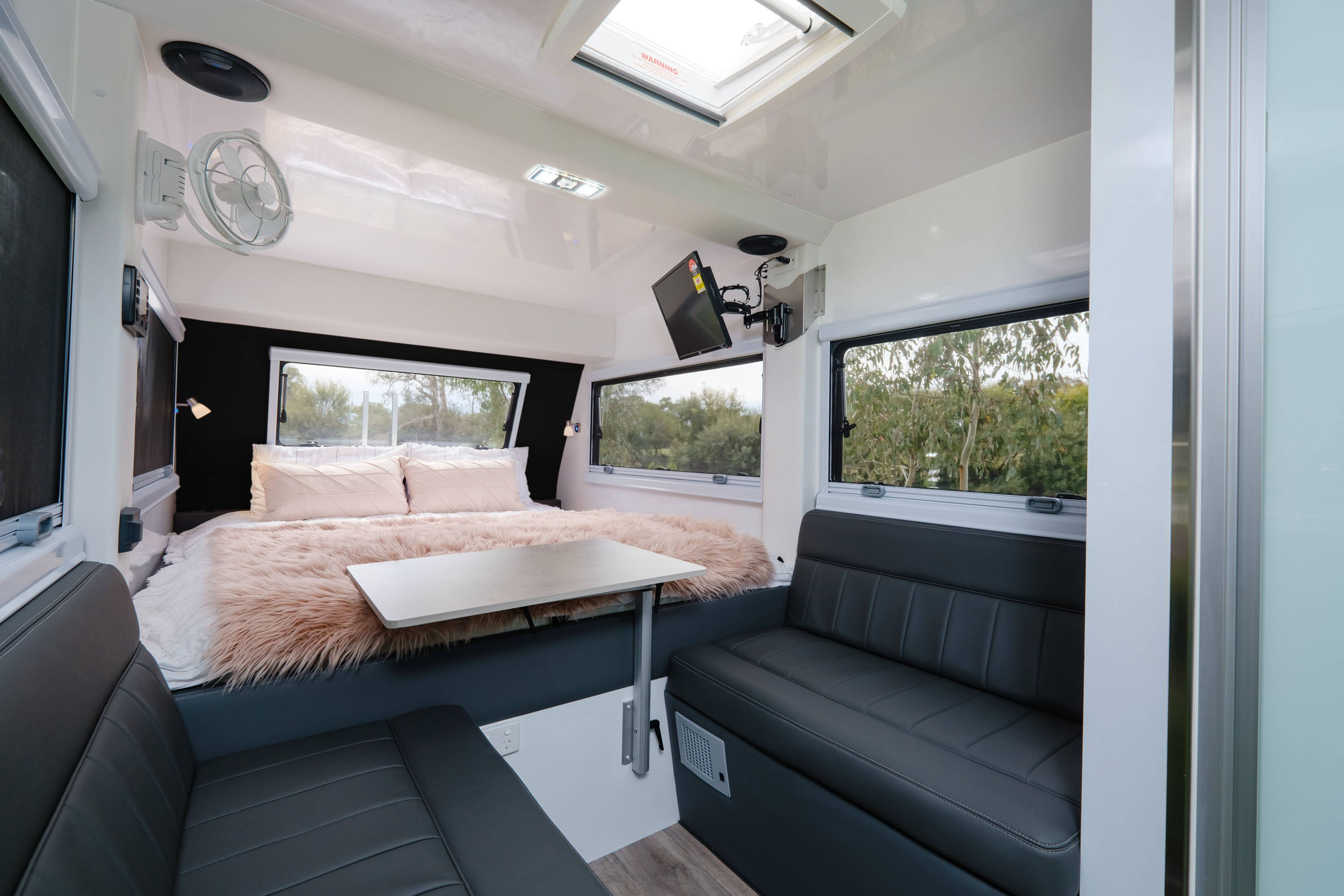 After a long day touring there is nothing better than retreating to the luxury of the LXV 4.7. You will have a restful sleep in the full size queen pillowtop mattress with outside noise cancelled out by the high rated insulation properties of the outer shell.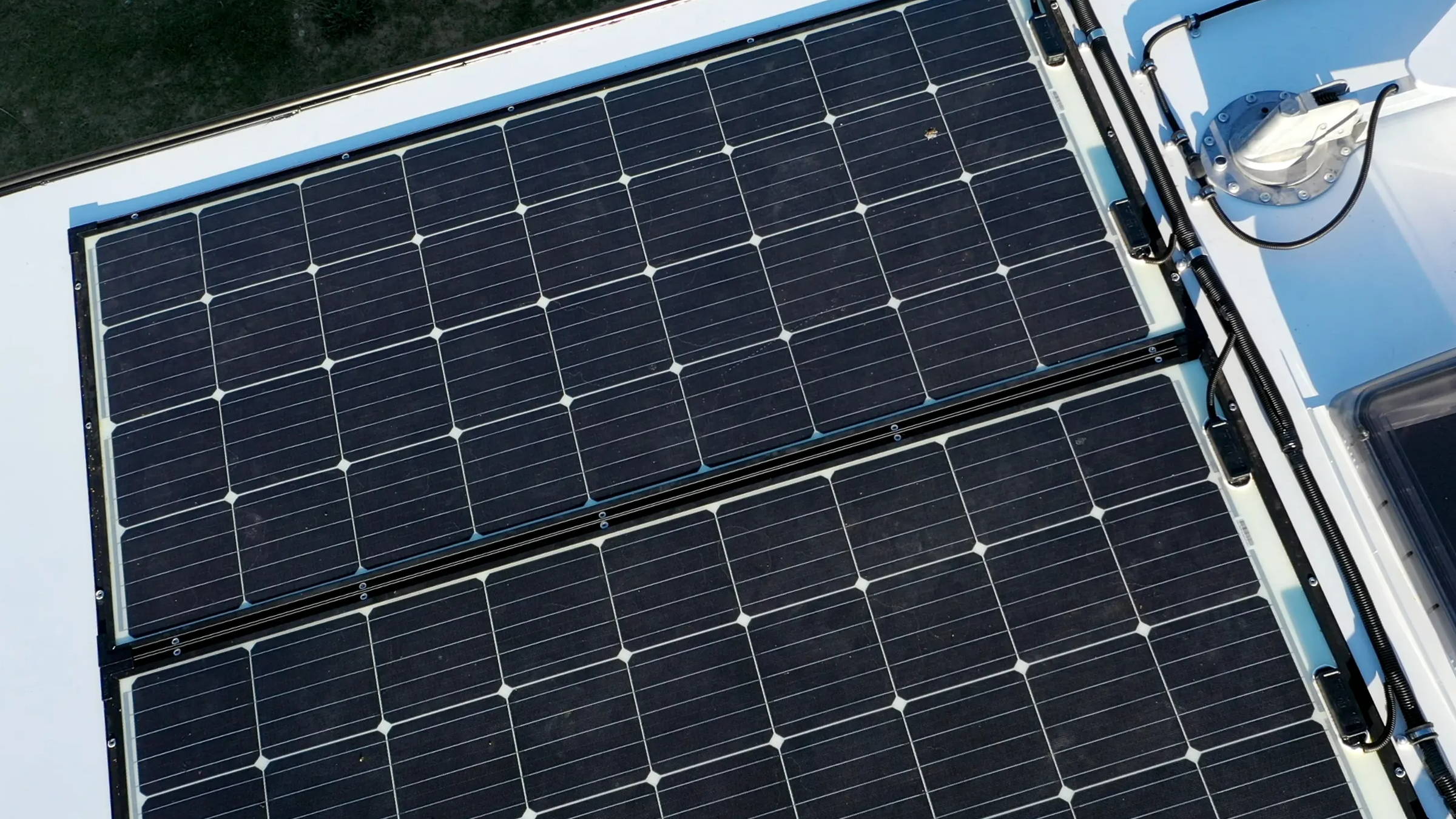 Enough power to stay off grid and leave the boundaries of traditional caravan parks. 555 watts solar system, 360-Amp Lithium Batteries and a 3000-watt inverter enable you to use 240v appliances with no power drop off.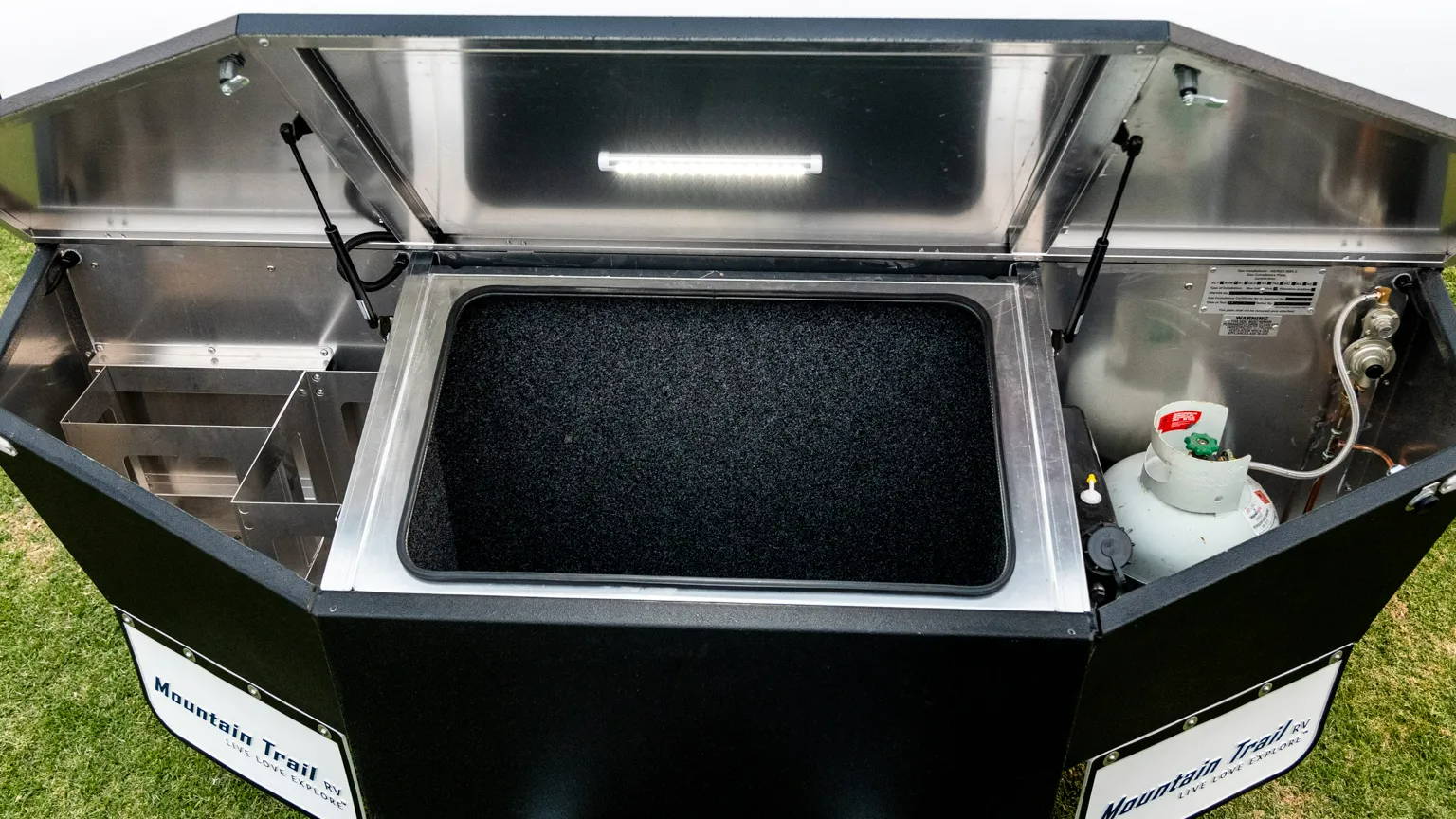 Our front storage box is designed to give protection to the van from stones whilst on the road. Painted and sealed with rubberised paint it also includes vented box dual 20lt fuel holders, 9kg gas bottle and a centre section sealed with marine grade carpet.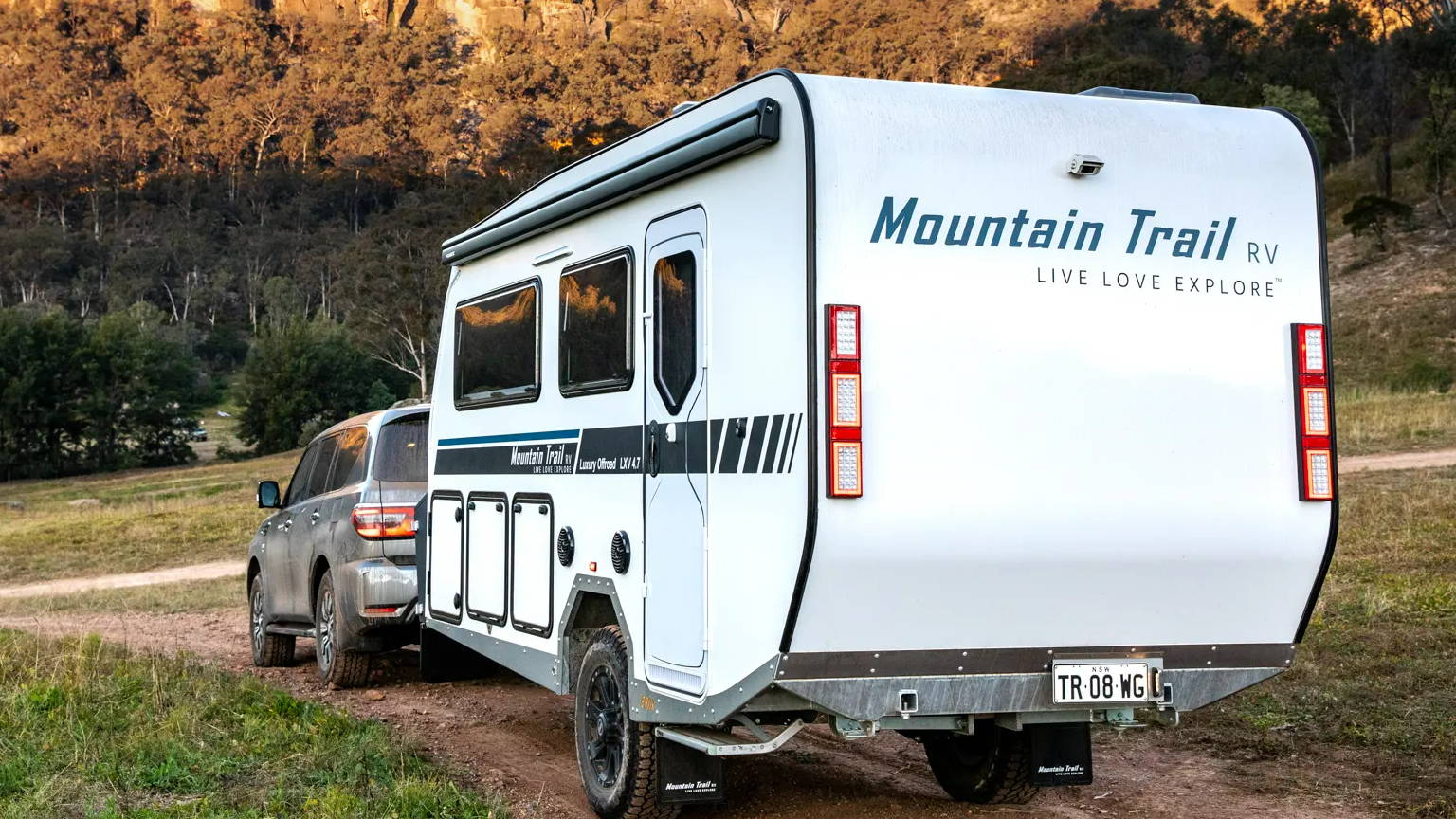 Anti-sway technology, breakaway controller and electric brakes. We've engineered our off-road caravans from the ground up, utilising the best technology available to provide you with a safe van on the road.
This is only the beginning,
want to see more features?