The Flagship Rooftop Tent of the iKamper Range
The Original Expandable Hardshell Rooftop Tent Upgraded to the Next Level!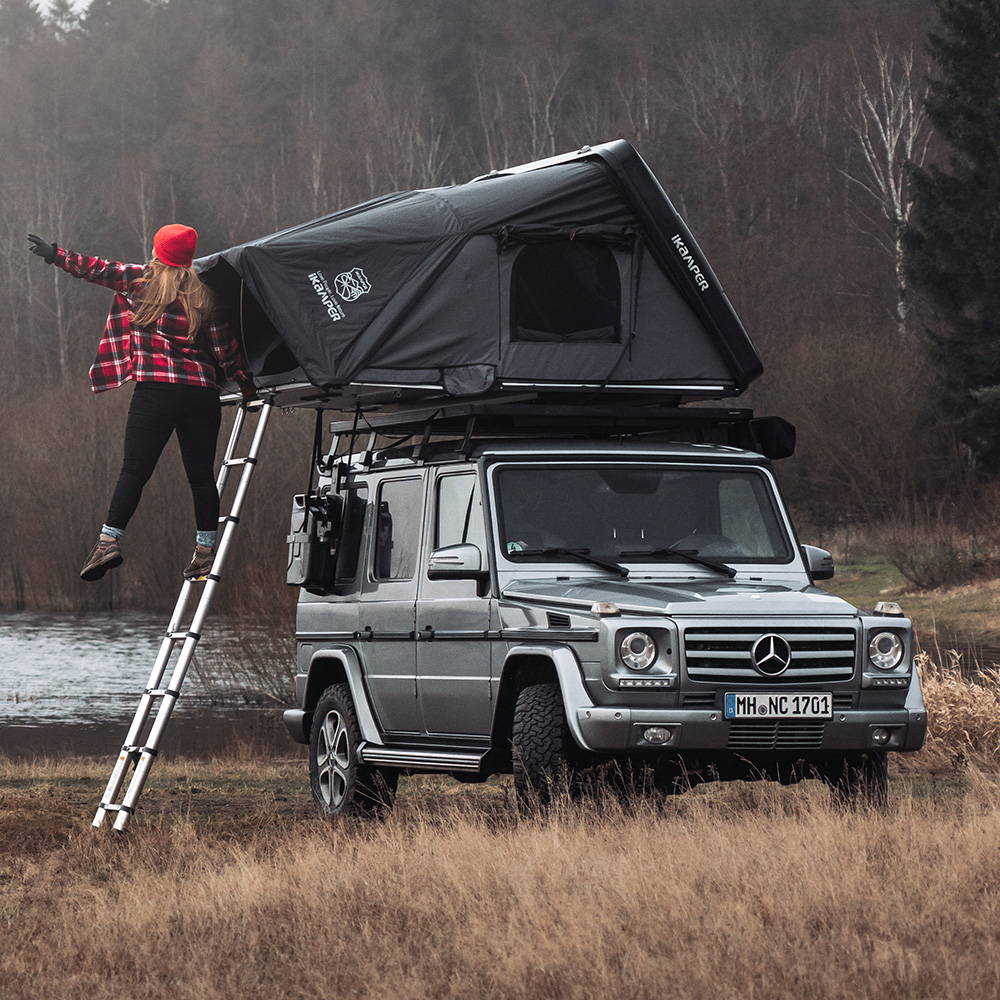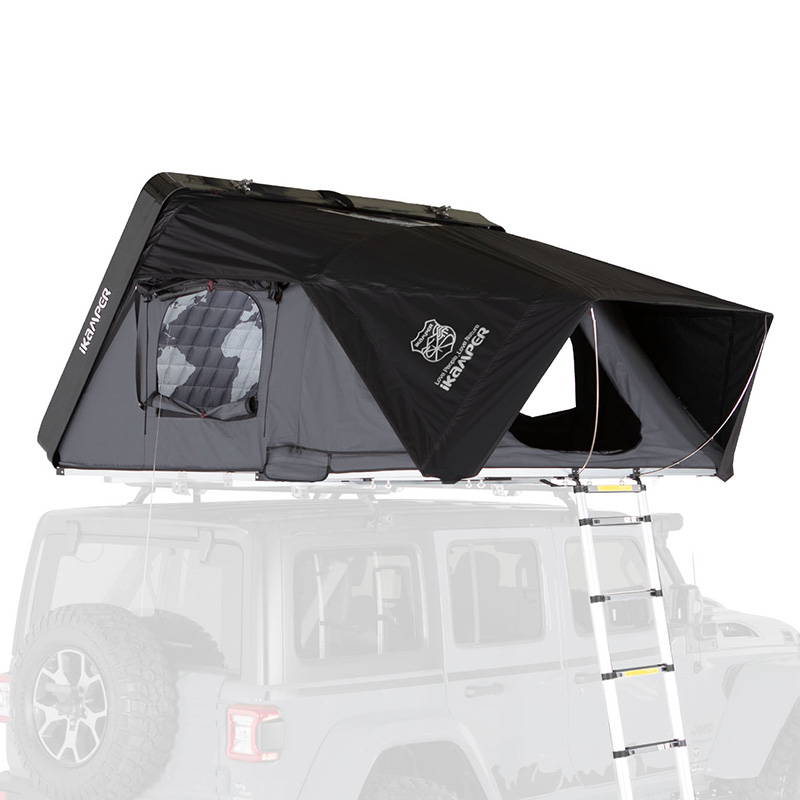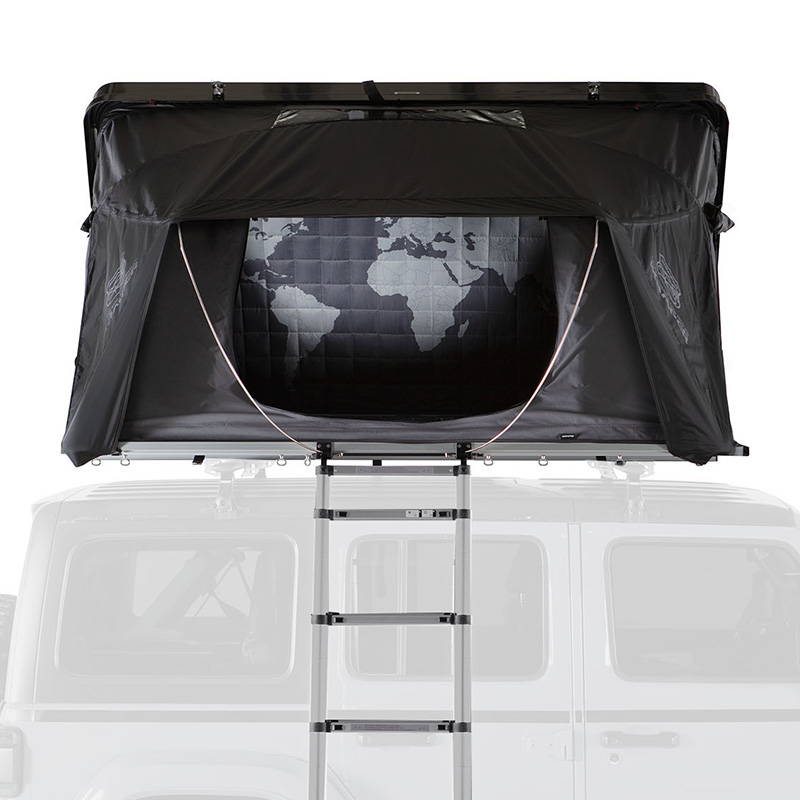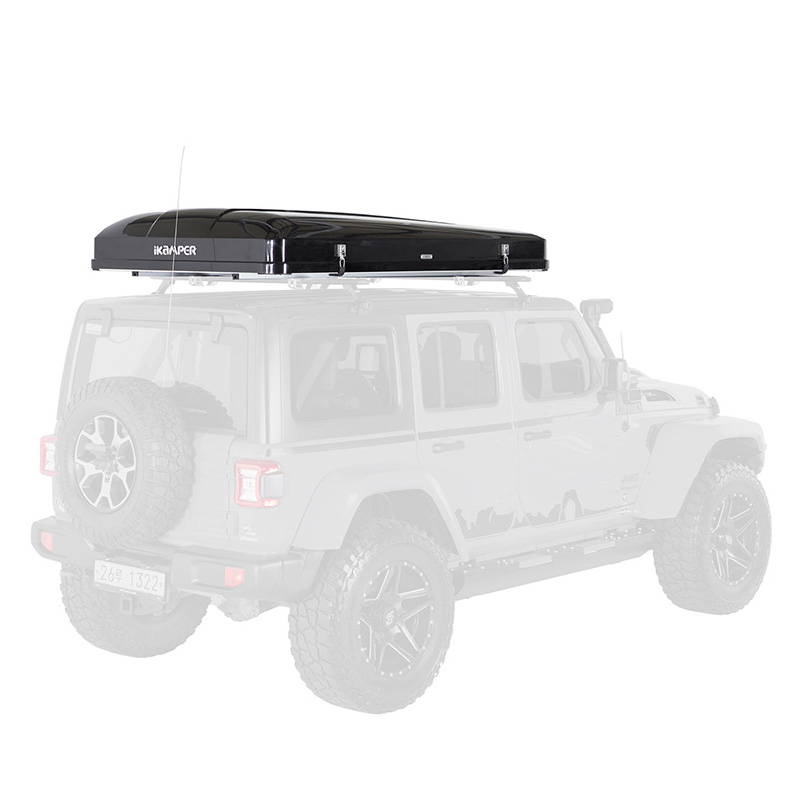 Skycamp 3.0 is the best instant roof top tent for families and friends to go on any adventure. It even includes a king size bed. This patented, 1-minute setup design put iKamper on the map. Do what you love with people you love. The Skycamp is the perfect home away from home for 3-4 campers.
Skycamp, which was introduced to the market through the Kickstarter project in 2017, has gained a reputation as the world's first expandable hard-shell rooftop tent. In 2018 it was recognised for its originality and innovation by winning the Red Dot Awards and became one of the best rooftop tents in the market. iKamper did not just stay in the same place by maintaining the reputation as the first and the best, but used that as a starting point to focus on the community voice and making Skycamp more user friendly and as a result of that, in 2022, we introduce Skycamp 3.0!
It takes only one minute to unfold or fold the tent. Easy and quick installation gives us more time to focus on the nature and people around us. Skycamp provides enough space for three adults or two adults/two children, enough space for a family to camp together and includes a large king size mattress.
1-Minute Setup: no bags, straps, or extra latches. Park, and be ready to sleep!
Spacious: the king-size mattress fits a family of 2 adults and 2 children, or 3 adults
Built to last: built with high-quality components, assembled with care, for you to enjoy your tent for years to come.

Double-layer FRP shell offers insulation. It's strong, lightweight, durable, and it can easily be repaired if damaged (unlike cheaper ABS shells)
High-performance honeycomb aluminum floor panels (strong enough to hold a 1.8-ton Jeep Wrangler)
Thick, durable, breathable blackout canvas skin (300GSM poly-cotton canvas)
Strong ripstop rainfly with an eco-friendly water-repellent coating
YKK zippers on front entrance: stronger & more durable

Comfortable: comes with a king-size, 6.5cm thick, 9-zone mattress to more even distribute body weight. It's also insulated, and you have the ability to upgrade to iKamper's RTT Comfort. Sleep as well as you do at home
Lightweight: you won't find another hardshell roof top tent so spacious this light. From the shell to the floor to even the smallest zippers, the Skycamp 3.0 was designed to stay light without sacrificing durability. It will fit on most cross bars.
Rocky Black: add this matte black option to protect your shell from scratches and/or UV rays.
Skyview window: falls asleep under the stars
Locks: custom stainless steel hardshell locks for peace of mind
Detachable rainfly: roll it up, or detach it completely for faster installation and better views
HC Ladder: wider angled steps for safety and comfort
World map provides the feeling of adventure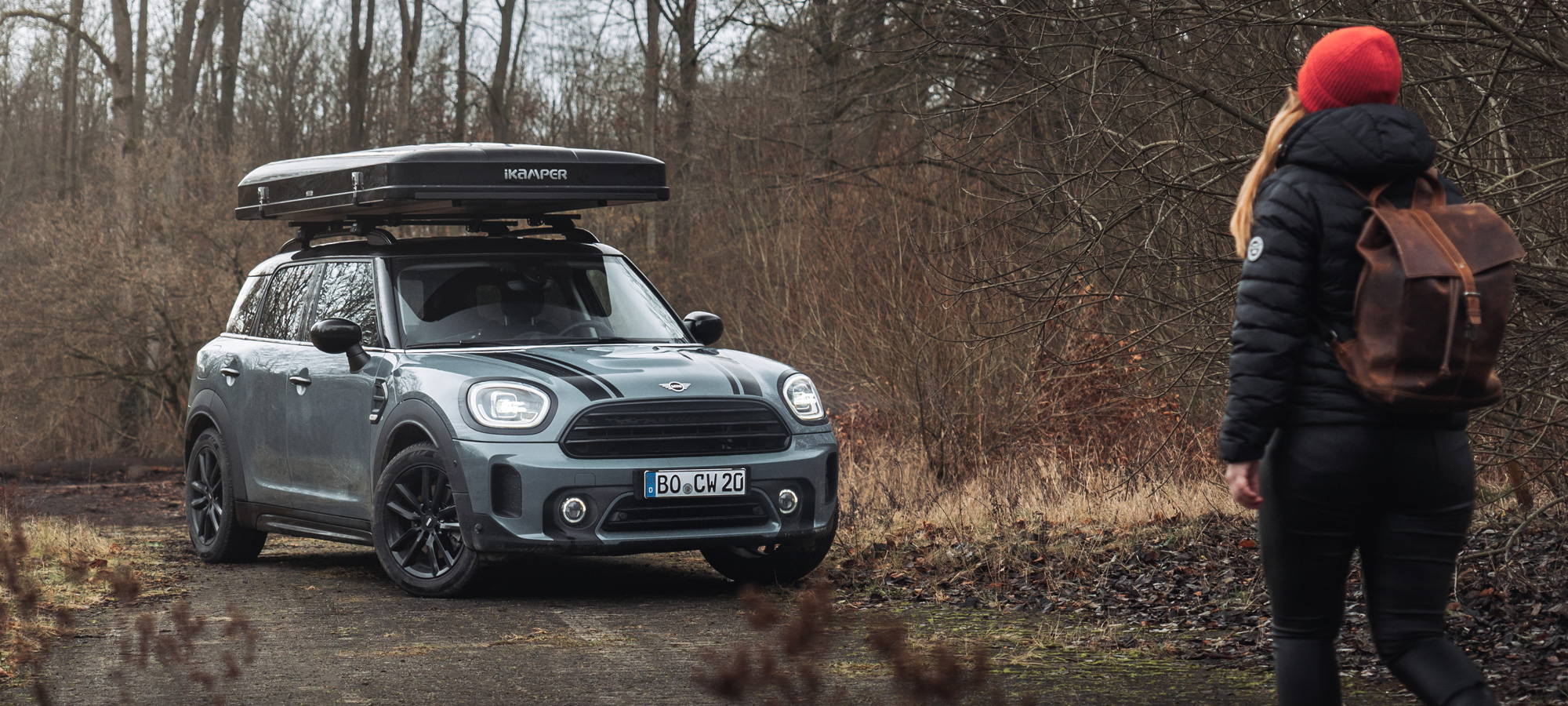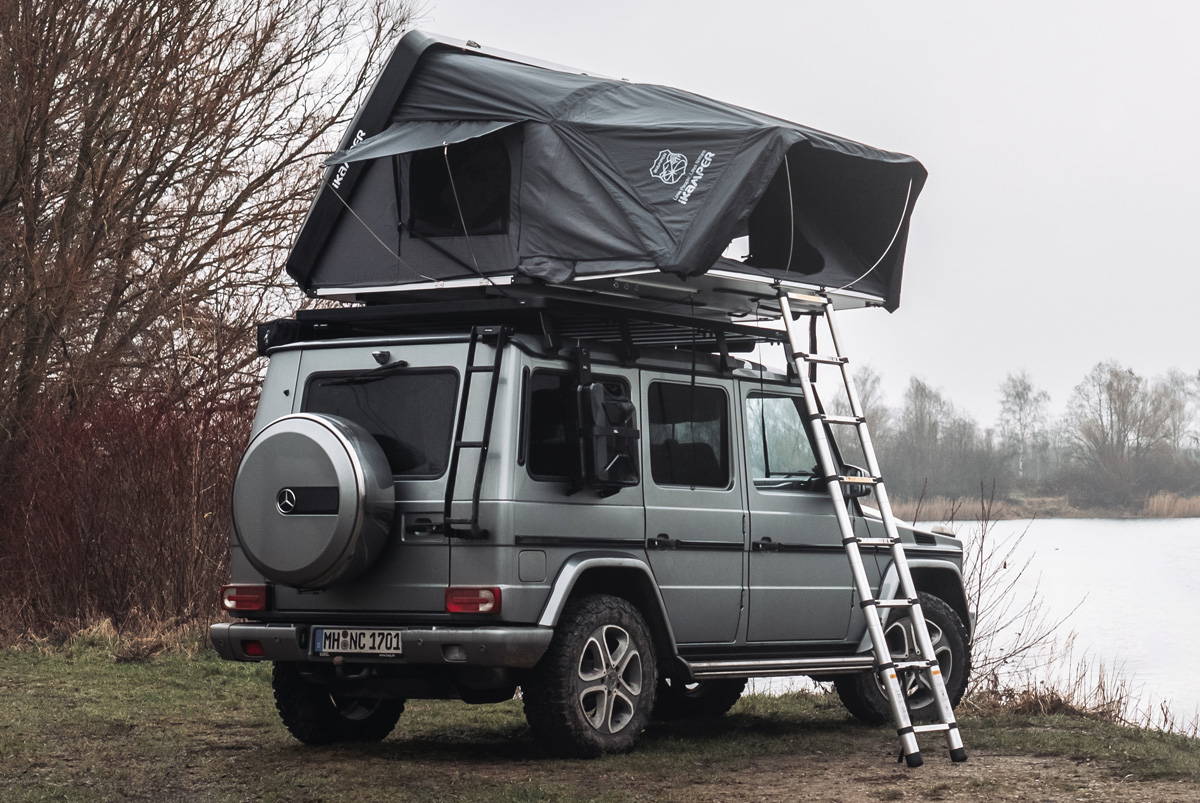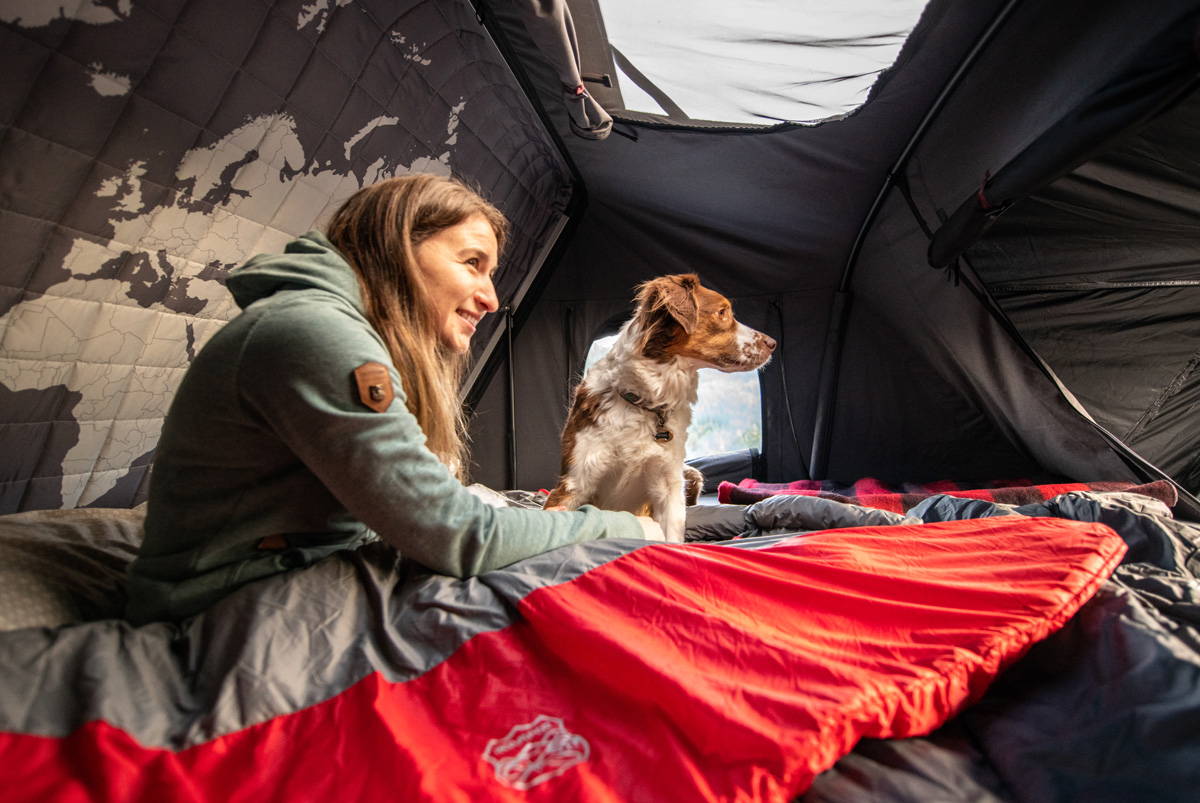 2022 Improved Design
Feedback from the iKamper global community of 12,000+ members led to key improvements:
Exterior
Colour: introducing iKamper's new brand colours (Midnight Gray, Granite, and Deep Burgundy)
Attention to detail: the chrome logo has been replaced with the new stylish brushed metal one
Easy-access locks: lock up your tent with ease no matter your rack configuration. You don't need to get your fingers under the tent to lock it.
HC Ladder: easily removable/replaceable with our new brackets
Mounting Brackets 3.0: now compatible with thicker crossbars, lighter, and with rubber bumpers to protect your crossbars.
Weatherproof access for electronics on both the main and extension panels: no need to drill through the panels
Tension pole receivers are easily accessible from inside the tent have been relocated for easier access
Strong ripstop rainfly with an eco-friendly water-repellent (DWR) coating.
Interior
Redesigned quilted insulated lining and mattress cover offer more warmth, less condensation, and a more comfortable & cozy feel
Thicker 6.5cm, 9-zone mattress with insulating layer to reduce condensation
Space: the hardshell was redesigned to allow you to store more inside the Skycamp when closed
Windows: improved zipper design allows you to open both windows at once, and the easy-open system lets you use the outside cover as blinds
Black powder-coated, sturdier aluminum poles to hang lights, Insulation Tent, etc.
YKK zippers: stronger & more durable
Skycamp 3.0
TECHNICAL SPECIFICATIONS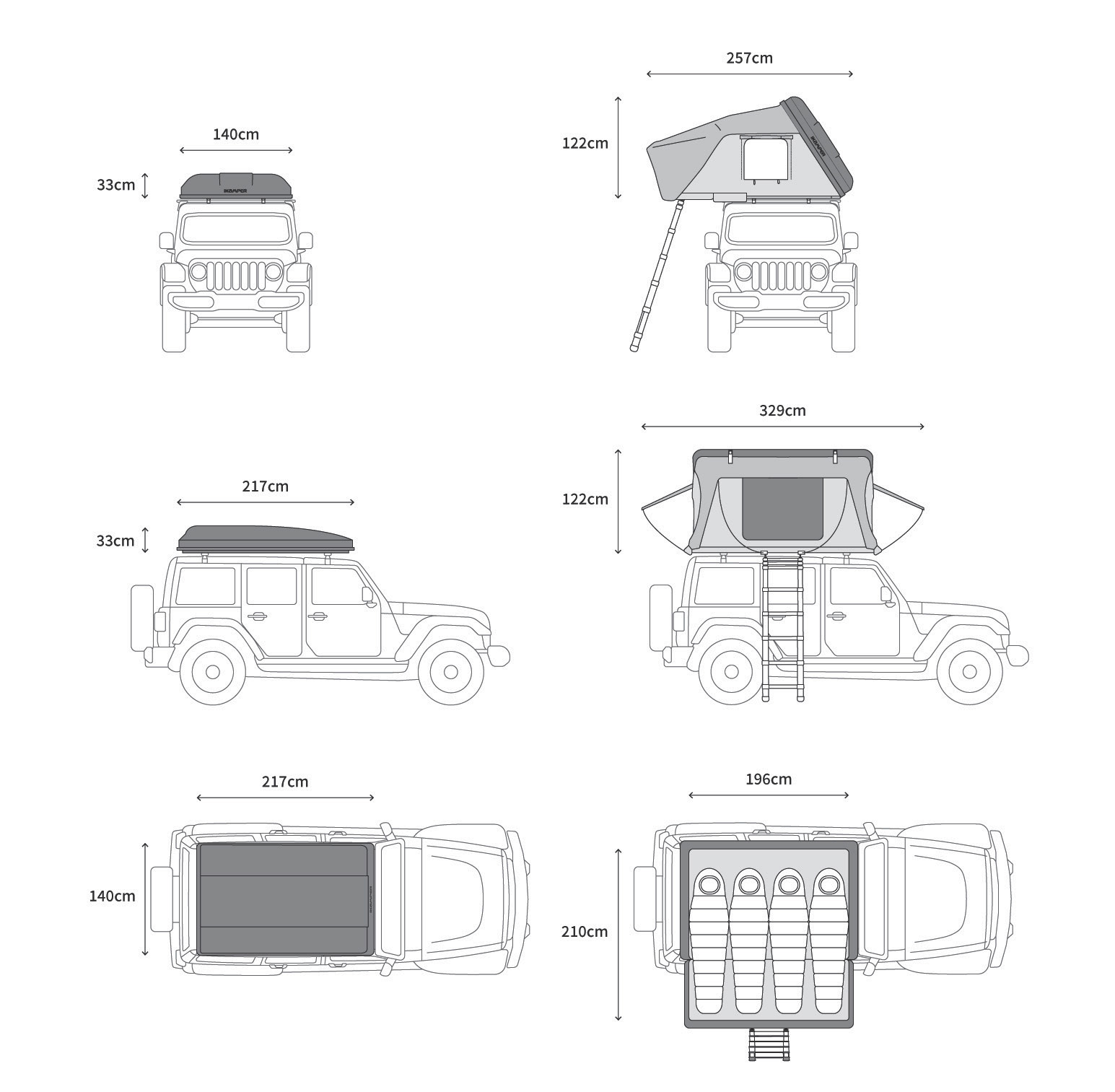 Looking for Roof Rack Options To Go With Your Rooftop Tent
For Assistance Please Be Sure To Fill Out The Form
We Can Get You The Perfect Roof Rack and Rooftop Tent Combination For Your Car
We Help Install Your Rooftop Tent


We have two main types of installation and we have classifed them below to make it simple for you.
If you have any questions be sure to speak to our chatbot or email us at manager@basecampaustralia.com.au
iKAMPER : Roof Top Install - Basic - 1hr Max
iKAMPER : Roof Top Install - Complex- 2hr Plus Max